Chicago Booth Professor Named Governor of Reserve Bank of India
Geoff Gloeckler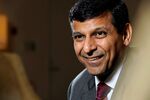 Raghuram Rajan, a popular finance professor at the University of Chicago's Booth School of Business, has been named governor of the Reserve Bank of India, the most senior banking position in the country's central bank.
"The job of governor is one of great responsibility," Rajan, 50, said in a statement from the school. "I am extremely grateful to Chicago Booth and the university for being so supportive of its faculty when they undertake public service."
Rajan, a native of Bhopal, India, has been serving as chief economic adviser to the Indian government since August 2012. From 2008 to 2012, he served as an honorary economic adviser to Indian Prime Minister Manmohan Singh while continuing his full-time teaching role at Booth.
According to the school, Rajan most recently taught a course in international corporate finance in the MBA program and a course on the theory of financial decisions in the school's PhD program.
"We at Chicago Booth are very proud that one of our preeminent scholars is going to lead the central bank of a major country, and we believe this will be good for India. In turn, his experience in India will be extremely valuable to his research and his teaching when he returns," said Booth Dean Sunil Kumar in the release announcing Rajan's appointment.
While in the post of governor—typically a five-year term—Rajan will be on leave from the university.
Join the discussion on the Bloomberg Businessweek Business School Forum, visit us on Facebook, and follow @BWbschools on Twitter.
Before it's here, it's on the Bloomberg Terminal.
LEARN MORE