BMW Sales Growth Outpaces Mercedes-Audi in China Luxury Car Race
Bloomberg News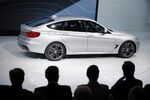 Bayerische Motoren Werke AG, the world's largest premium automaker, saw its sales growth outpace those of Daimler AG's Mercedes-Benz and Volkswagen AG's Audi in China last month after BMW introduced a stretched version of its 3-series.
BMW-brand deliveries in China rose 39 percent to 32,194 units in July, the company said yesterday in a statement. Mercedes earlier this month reported sales rose 31 percent to 18,530 units, the best sales gain in more than a year in the country, and Audi, which counts Hong Kong in its China numbers, said it sold 27 percent more vehicles to 41,766 units.
BMW has said China will probably surpass the U.S. as its top market this year as the brand enters more communities and wins buyers with its 3- and 5-series sedans. The Munich-based automaker, which trails Audi by total volume sales in China, has outgrown its competitor for at least three years.
Audi, the best-selling premium brand in China, is on pace to retain its lead this year, with deliveries of 269,905 units in the first seven months. That keeps it on track to reach its target of 450,000 vehicles in its largest market this year.
The Ingolstadt, Germany-based automaker will open its second assembly plant in Foshan later this year, boosting its annual capacity to 700,000 vehicles in three or four years, Chief Executive Office Rupert Stadler said last month.
At Mercedes, last month's surge in deliveries follows the reorganization of its distribution network in March and the introduction of the A-class hatchback in April. The Stuttgart, Germany-based automaker last year appointed an executive to the group management board to oversee operations in China for the first time.
The automaker will introduce its revamped S-class sedan later this year in China, which accounts for more than half of worldwide sales of the model.
— With assistance by Alexandra Ho
Before it's here, it's on the Bloomberg Terminal.
LEARN MORE