Blacks and Hispanics Aren't Getting Enough Government Contracts
by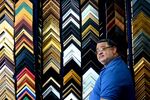 The federal government is notorious for missing its goal of awarding 23 percent of contracts to small businesses, a target that Washington has missed for at least seven straight years. The government also sets targets for granting contracts to businesses owned by women, minorities, service-disabled veterans, and firms located in disadvantaged neighborhoods. Some agencies are better than others at hitting these goals, but on the whole, the results aren't very inspiring.
Danielle Ivory's story in Bloomberg News today on government contracting to black- and Hispanic-owned businesses asks if government contracting can even keep up with the growing Hispanic population:
About 17 percent of the U.S. population is Hispanic, and 13 percent is black. In federal small-business contracting, award ratios for those groups are in the single digits.
Small businesses, called the "drivers and engines of growth" by President Barack Obama, attracted about $98.2 billion in government awards last year, according to data compiled by Bloomberg. Hispanic-owned companies won about 8.4 percent of that total, or $8.21 billion, while black-operated small businesses won about 7.2 percent, or $7.1 billion.
Those numbers are important to track because Hispanics are expected to amount to 30 percent of the U.S. population by 2050, as Ivory reports. They might also be fodder for those speculating in Washington that the next head of the Small Business Administration will be an ethnic minority member.
Before it's here, it's on the Bloomberg Terminal.
LEARN MORE