What Michael Kors Knows: No Woman Is Too Fat for a Nice Handbag
by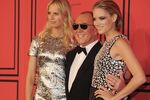 John Idol, chief executive officer of luxury lifestyle company Michael Kors Holdings, is very excited. He's fired up about the fall collection from designer Michael Kors, which Idol says "combines urban athleticism and uptown polish." He's as enthusiastic as he's ever been about their watch business, which is growing rapidly. He's thrilled about the company's future.
If you worked at Michael Kors, you might be buzzing, too. The company, which went public in December 2011, could double its revenue by next spring to reach $2.9 billion. In an hour-long earnings call yesterday, Idol said that during the first quarter of fiscal 2014 (which, for Kors, ended in June) sales grew 54 percent. Revenue at stores open at least a year, a key indicator of a retailer's health, rose 27 percent. In North America, that sales growth figure was 25 percent; in Europe, 56 percent. After its IPO, the stock traded around $25. After its latest earnings call, shares traded at about $70. So analysts were very excited, too.
When it comes to selling affordable luxury, Michael Kors seems to have edged out Coach, at least for now. "It's his time," says Pam Danziger, the head of Unity Marketing. "Michael Kors has that buzz factor." Kors, of course, has been a judge on Project Runway since it first aired in 2004 and, after sitting out last season, has returned as a guest judge. The exposure has been important for him, says Danziger: "He's got authority as the designer of the day." When Project Runway started, 11 percent of Americans knew the Kors name. Now 71 percent do, the company told Bloomberg News in March 2012.
It could have been a coincidence, but just as Kors joined Project Runway, his private equity backers (which included Idol) encouraged him to start a lower-priced line, the MICHAEL Michael Kors Collection. And while Kors continues to produce runway collections and offer ultra-luxe items (this $18,000 houndstooth mink wrap is available for pre-order now), it's the other line of accessories and clothes—and accessories in particular—that's really selling. As Idol said: "Small leather goods and handbags are most important to us."
For some customers, the appeal of brand-name accessories, especially ones that seem affordable (and $300, relative to $3,000, does qualify), is enduring. As Kors told Bloomberg News: "They have no size, no age. You could feel you are having a fat day, and you can still wear accessories."
Before it's here, it's on the Bloomberg Terminal.
LEARN MORE