Tesla Motors Stuns Wall Street ... Again
The electric-car maker can't seem to make enough of its high-end Model S sedans
By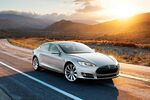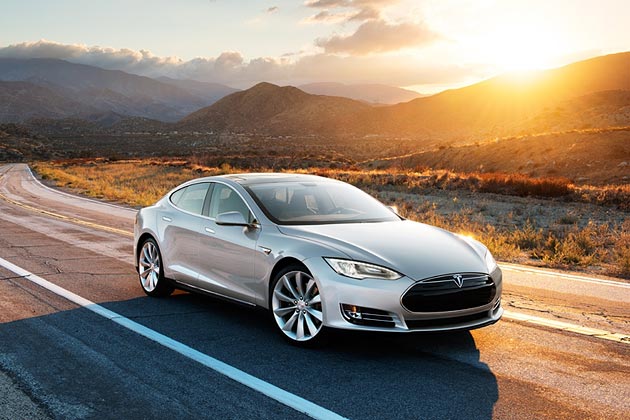 Update, 7 p.m.: Adds details from Tesla's earnings conference call.
Anyone hoping to ratchet the Tesla Motors hype down a notch will want to ignore the company's second-quarter results delivered on Wednesday afternoon. Tesla turned a profit, much to the surprise of Wall Street analysts, and said it shipped a record number of its Model S luxury sedans that have become all the rage with the wealthy, eco-conscious set. The results pushed Tesla shares further into the stratosphere and boosted its market cap beyond that of Suzuki Motor, Mitsubishi Motors and Isuzu Motors.
Led by Chief Executive Officer Elon Musk, the 10-year-old automaker delivered 5,150 Model S sedans in the last quarter, beating a forecast of 4,500 vehicles. As first reported in our cover story last month, Tesla has ramped production at its Silicon Valley factory up to 500 vehicles a week. (You can see the factory in action here.) It's also preparing to ship cars into Europe—Norway alone should account for 800 orders, the company said—and then Asia. Tesla's revenue for the second quarter reached $405 million, up from $26.7 million in the same quarter last year (PDF). Excluding one-time items, Tesla posted an operating profit of 20¢ a share, which was a real shocker to the Wall Street analysts who expected a 20¢-per-share loss. Including all the special items, Tesla reported a net loss of $30.5 million, or a loss of 26¢ per share.
Investors in the after-hours markets drove Tesla shares up more than 12 percent to a 52-week high of $150.90. Tesla started the year trading at about $33 per share before a string of announcements generated interest in the stock and put the squeeze on short sellers who had bet the Model S would be a dud.
Tesla kept its sales forecast for the year steady at 21,000 vehicles but declared that it expects to ship 40,000 Model S units per year by late 2014.
Financial analysts joined Musk on a mid-afternoon conference call to discuss the results and did not seem bothered by their huge forecasting miss. One analyst asked Musk for his take on BMW's electric i3. "I think there is room to improve on the i3, and I hope they do," Musk said. At which point the analyst broke into a fit of giggles, only to be joined by Musk. This went on for some time.
Throughout the call, Musk insisted that Tesla has more supply problems than demand problems. The company continues to work out kinks in its factories, to get better deals from suppliers, and to try and improve gross margins by becoming more efficient overall. "It is not some story about how did we get super good," he said. "It is how did we stop being so stupid."
Close Tesla watchers will have paid special attention to what Musk said about the Model X, a SUV-minivan mashup based on much of the Model S technology. The car will arrive in late 2014 in limited numbers, then reach volume shipments in 2015, Musk said, which is probably a bit later than the optimists hoped.
Musk, also the CEO of SpaceX, flicked at the Hyperloop, as well. He's been dropping hints about this mysterious invention for almost a year now; it's said to be a new mode of superfast transportation. He will reveal a draft plan for the technology on Aug. 12 and open-source it, asking others to improve on the design. Musk does not plan to commercialize the technology unless it languishes for a few years without anyone else acting on it. "I have to focus on the SpaceX and Tesla," he said. "That is more than enough."
Before it's here, it's on the Bloomberg Terminal.
LEARN MORE