Swift CEO's Cozy Deal for Cold Trucks
by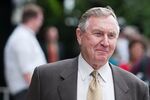 It's the kind of transaction that can raise an eyebrow or two: a large company buying a business owned by its chief executive. Swift Transportation, one of the largest U.S. trucking companies, made just such a move by acquiring a refrigerated-trucking business owned by Swift Chief Executive Jerry C. Moyes for $189 million in cash and $36 million in assumed debt.
Moyes—who founded Swift in Phoenix 47 years ago with a single truck—is also the company's largest shareholder with a 3.5 percent stake, according to Bloomberg data. On a conference call today, which did not include Moyes, Swift officials sought to stress that the Aug. 6 acquisition of the Moyes-owned Central Refrigerated Transportation had been the result of a lengthy, thorough review by a special board committee assisted by advisers from Lazard and Baker Botts, the large Houston law firm. A Swift representative said Moyes wouldn't be available to comment.
In a client note, Cowen & Co. analyst Jason Seidl said the deal is likely to elicit a mixed reaction among investors. "We believe that some investors may be skeptical of the transaction," he wrote, as a result of Moyes's interests on both sides of the deal. Swift shares rose about 1 percent at midday trading and are up 94 percent so far this year.
A review of how to expand in temperature-controlled transport was initiated two years ago as a result of requests by customers, said William Post, chairman of Swift's special committee. Refrigerated trucking—used to move fresh foods, beverages, pharmaceuticals, and packaged items—is expected to grow 4 percent to 5 percent annually, with an annual market size of $8 billion. Refrigerated food transport is also a steadier business, Swift officials said, with fewer cyclical fluctuations than nonrefrigerated and intermodal shipments.
Central Refrigerated has a fleet of 2,065 tractors and nearly 3,400 trailers that operate from four terminals, and sales are expected to top $500 million this year. The company's top customers include Kraft Foods Group, Wal-Mart Stores and Dole Food. Swift, by contrast, has 35 terminals and yearly revenue of $3.6 billion. The purchase was in cash and not stock or some other payment, which seems to allow Moyes "to cash out" of Central Refrigerated. In response to an e-mailed question from analysts about the cash payment, Post said: "Jerry's personal financial situation was not something the special committee considered."
The Central Refrigerated deal isn't the first time critics have questioned the mix of Swift and Moyes's personal finances. In March, the International Brotherhood of Teamsters complained (pdf) to Swift's board that Moyes had pledged as much as 25 percent of the company's shares as collateral for personal loans related to his other businesses. Besides Swift and Central Refrigerated, Moyes owns Swift Air, a Phoenix-based air-charter company, and a real-estate company. In late 2009, Moyes completed the $140 million sale of the Phoenix Coyotes to the NHL, following its Chapter 11 bankruptcy. He acquired the team in 2006, moving it from Winnipeg, Manitoba.
Swift went public a second time in December 2010, three years after Moyes took the company private in a $2.4 billion leveraged buyout. The company's first initial public offering was in 1990, a period of growth when Swift was on its way to becoming the nation's largest freight trucking company. "I've never taken any cocaine in my life, but the day Wall Street gave me $22 million, we was on one heck of a high around here," Moyes says in a personal tribute video that's posted on Swift's website.
Moyes stepped down as chairman and CEO in October 2005 after paying $1.5 million to settle an SEC case accusing him of insider trading. The accusation related to his purchase of 187,000 Swift shares in May 2004, days before the company announced better-than-expeted earnings and the stock jumped 20 percent. Moyes did not admit or deny wrongdoing in settling the SEC allegations. He retook the CEO post after the company's return to the stock market.
Before it's here, it's on the Bloomberg Terminal.
LEARN MORE