pursuits
'Shark Week' Is Discovery's Great White Ratings Machine
By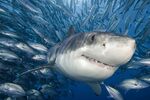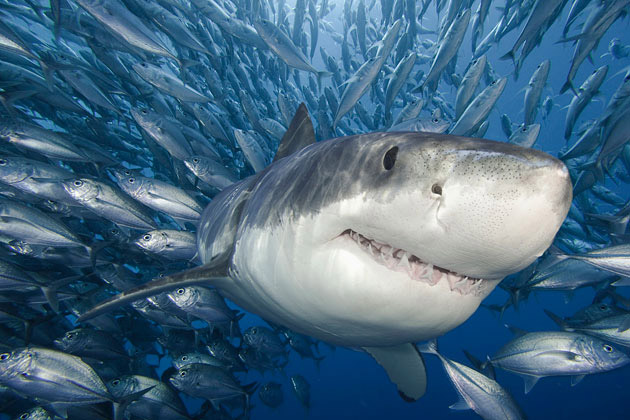 It turns out people really like sharks. As in, really like sharks. After decades of watching shark-themed movies like the Jaws franchise and Deep Blue Sea (not to mention countless YouTube videos about pets dressed in shark costumes), you'd think we'd be sick of them by now. But the finned predators still have quite a hold on us.
For proof, look no further than the Discovery Channel's 26th "Shark Week," its annual onslaught of shark-related programming that's occurring right now. Even though we know what to expect from these shows—a whole lot of swimming in circles and chomping—Discovery's audience is bigger than ever.
More than 4.8 million people tuned in on Aug. 4 for the mockumentary Megalodon: The Monster Shark That Lives, about the faux-search for a 1.5 million year-old, 60-foot, whale-eating shark purportedly still living off the coast of South Africa. Another 2.1 million tuned into Shark After Dark, billed as a "shark talk show," which is pretty much what you'd expect: It features couch-surfing celebrities with projects to plug, along with a man in a shark costume. More people watched Discovery's shows than dwell in the entire metropolitan area of St. Louis (2.9 million), bought Jay-Z's album when it came out (528,000), visit Times Square on a daily basis (460,000), and attended Lollapalooza last weekend (300,000) combined. With numbers like this, Discovery is on track to beat its 2012 Shark Week record of 21.4 million total viewers, making it the No. 1-rated cable network for people aged 18 to 34 during that time.
Interestingly, people don't just like sharks—they like real sharks. Syfy's made-for-TV movie Sharknado was watched by only 1 million people last month—a hearty number of Syfy's B-movie franchise but well below the audience that Discovery's docu-style programming brings in. When Discovery tried its hand at silly shark fiction with Megalodon last weekend, about 79 percent of the network's audience assumed it was real. When they found out that no, there's no such thing as a 60-foot shark that was "alleged" to have eaten an entire fishing boat, they flooded Discovery's Facebook and Twitter accounts with complaints.
Maybe Discovery can win them back with its thoughtful, scientific examination of why sharks have been moving closer and closer to shorelines in recent years. Viewers can find that show under a slightly less serious name, Sharkpocalypse.
Before it's here, it's on the Bloomberg Terminal.
LEARN MORE