Consumer Credit in U.S. Rose in June as Auto Sales Climbed
Victoria Stilwell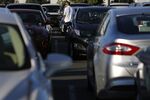 Consumer borrowing in the U.S. climbed in June after the biggest gain in three months as lenders responded to a pickup in auto sales.
The $13.8 billion increase in credit followed a revised $17.5 billion advance in the previous month that was smaller than initially reported, Federal Reserve figures showed today in Washington. Non-revolving borrowing, which includes auto financing and school loans, increased by the most in four months.
Gains in home prices and stock portfolios are putting consumers in a position to take advantage of historically low interest rates for big-ticket purchases such as automobiles. At the same time, Americans cut back on credit-card use as the effects of a higher payroll tax limited take-home pay.
"Auto credit seems to be pretty widely available and the demand for new cars has been strong as well, and both of those are probably going to continue through the end of the year," said Tom Simons, an economist at Jefferies LLC in New York, who projected a $14 billion increase in credit. "We still see a consumer that is reticent to borrow in order to make purchases other than autos."
The median forecast in a Bloomberg survey called for a $15 billion gain in June. Estimates of the 32 economists surveyed ranged from increases of $10 billion to $21 billion. The report doesn't track debt secured by real estate, such as mortgages and home equity lines of credit.
Revolving Debt
Revolving credit, which includes credit-card spending, decreased by $2.7 billion in June after a $6.4 billion jump a month earlier that was the largest in a year, today's figures showed.
Non-revolving debt, such as that for college tuition and the purchase of vehicles and mobile homes, increased $16.5 billion after an $11.1 billion gain in May.
Lending to consumers by the federal government, which is mainly for student loans, rose by $3.3 billion before adjusting for seasonal variations.
Household purchases rose 0.5 percent in June after 0.2 percent increase in the prior month, the Commerce Department said on Aug. 2. Incomes advanced 0.3 percent following a 0.4 percent rise.
Demand for vehicles is a source of strength for the economy, helping drive gains in non-revolving credit. Cars and light trucks sold at a 15.6 million annualized rate last month and 15.9 million in June, the strongest back-to-back readings since late 2007, according to figures from Ward's Automotive Group.
Housing Market
At the same time, a recovery in the housing market, combined with stock-market gains, is underpinning consumer spending, which accounts for 70 percent of the economy. Further improvements in confidence and employment will probably keep driving credit demand, Ajaypal Banga, chief executive officer of Mastercard Inc., said on a July 31 conference call.
The second-biggest U.S. payments network posted second-quarter earnings and revenues that topped analysts' average estimates as spending on credit and debit cards rose.
"As the U.S. economy continues to recover, generate jobs and the like, you will probably see an increase in credit spending that may be faster than debit, but that still is out there to be seen," Banga said.
The Bloomberg Consumer Comfort Index climbed to a more than five-year high in the period ended July 28, coinciding with the six-year high by the Thomson Reuters/University of Michigan index of consumer sentiment.
Before it's here, it's on the Bloomberg Terminal.
LEARN MORE