AOL Bets That the Future of TV Includes Annoying Online-Video Ads
by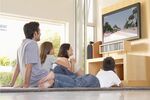 When AOL made the largest acquisition in its history Wednesday, it placed a $405 million bet on the shape of television in the coming years. And the future of TV, according to AOL, looks a lot like the online-advertising industry into which AOL has moved in recent years.
The company announced that it has purchased Adap.tv, a video-advertising startup, with $322 million in cash and the remainder in AOL stock. Many of AOL's previous acquisitions have been for content companies, most notably when it bought the Huffington Post in 2011 for $315 million. The idea behind this latest deal is different: Adap.tv brings together advertisers and publishers, taking a cut of each transaction.
Armstrong described the Adap.tv deal as an early move to adapt to a world when all television advertising—a market he pegged at $420 billion—shifts from the familiar world of broadcast and cable to the Internet. While television-advertising deals are negotiated between people, Armstrong described a future where that happens via an automated process on exchanges like the one run by Adap.tv. And computers haggle with an efficiency that cannot be matched by mere mortals. The major online advertising networks have already adopted so-called programmatic advertising for online display advertisements. "If you look at the difference in the process of how TV ads are bought and sold, vs. what Adapt.tv does, there's not a small difference—there's a pretty significant difference," Armstrong told investors today. "Something that may take months to plan and buy can be done in the matter of tens of minutes on the Adapt.v platform."
That highly automated market for television advertising lies far into the misty future. But even before we get there, video is being touted as the crown jewel of online advertising. Advertisers are expected to spend $4.14 billion on online video ads this year, according to eMarketer, more than twice the level of spending in 2011. And that total is expected to double again in less than five years as such companies as Facebook and Twitter continue to develop video-advertising capabilities.
All this has inflated hopes for advertising-technology companies, but signs of trouble are facing this crop of startups. A rival video-advertising company, YuMe, went public on Wednesday and had to price its initial stock lower than expected. Prices have remained flat all day. This follows a disappointing IPO in June by Tremor Video, seen as a bellwether for this year's ad-tech companies. Tremor's stock is currently trading at $8.10, well below its IPO price. Adap.tv had reportedly filed with regulators in preparation for its own IPO before deciding to accept AOL's offer—and it's fair to assume that the poor performance of its competitors played a role in its decision to stay away from the public markets.
Armstrong brushed aside questions suggesting that the lackluster stock performance of video ad-tech companies signaled much about Adap.tv's prospects. While other companies serve only as ad networks, he argued, Adap.tv's strength is its software platform built to establish an automated market for video advertising. He also argued that the company was already operating a healthy and growing marketplace with companies both buying and selling ads.
By joining AOL, however, Adap.tv may face questions about whether AOL's own content will get preferential treatment; AOL says the company will be run separately from its other video businesses. Better yet for Adap.tv will be the insulation from the short-term demands of the public markets. Given the skepticism investors are showing about its competitors, having a patron with slightly more patience may be a good choice—especially true if AOL really does have its eyes on the television industry, which is hardly renowned for its nimbleness.
"The television industry, that's the big prize at the end of the rainbow," says Jim Nail, an analyst at Forrester Research. "It's a very slow-moving industry. While I'm starting to see it accelerate, that's like a crawl to walk. Maybe in the next couple of years they'll get from walk to slow jog."
Before it's here, it's on the Bloomberg Terminal.
LEARN MORE