Why Is Jeff Bezos Buying the Washington Post?
by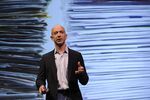 A day after the Graham family's stunning announcement that it is selling the Washington Post to Jeff Bezos, the big question remains: Why is Amazon's founder betting on old media? Here's one answer: Jeff Bezos loves content, and he always has.
This hasn't always been obvious. Amazon's most visible accomplishments include its massive fulfillment network, so adept at efficiently moving warehouses to doorsteps; its domination of the e-books universe, from the Kindle to the world of content created for it; and its management of massive amounts of customer data in order to coldly personalize Amazon's site for each of its 200 million customers.
Still, Bezos has always loved a good story—the kind that engrosses customers and encourages them to spend time with electronic devices and to purchase books, music, and movies (which still account for a good chunk of Amazon's business). In the 1990s, when his ambition was to create the largest bookstore on the Web, Bezos built a large editorial department, hiring a staff to turn Amazon into the equivalent of a massive book chain with the trusted touch of an indie bookstore. Now it seems almost quaint, but Bezos had big dreams for the group; he tried to hire esteemed journalists such as then-Time editor Walter Isaacson. As I recount in my forthcoming book The Everything Store, the editorial department eventually faded during the dot.com bust amid a direct, acrimonious, internal competition with the algorithms that could more efficiently personalize the website.
Bezos didn't give up his dream of owning and delivering unique content. With the rise of the Kindle in 2009, he began to create a wide array of publishing imprints that encouraged authors to experiment and sell their wares directly to readers. This is often framed as a competitive attack on traditional publishing—including by us—but programs such as Kindle Singles and Kindle Serials have given writers new way to reach an audience. Departments like Amazon Studios, which is backing television shows, are giving creators freedom and flexibility outside the realm of major television distributors.
There are strong personal reasons for Bezos to invest in content. His wife, MacKenzie Bezos, is a novelist. He is also a voracious reader: Bezos has credited books with informing many of his most important business decisions, from the creation of the Kindle and Amazon Web Services to his deliberate cultivation of a frugal, action-oriented culture at Amazon.
There's one other obvious factor at work in Bezos's purchase of the Post. Warren Buffett, whose investment philosophy has clearly inspired Bezos's long-term emphasis at Amazon, has recently bet big on the revival of local journalism. To Buffett, local papers are a great investment: they have strong-bonds with their community, a minimum of established competition, and staffs full of ambitious, versatile journalists. "Wherever there is a pervasive sense of community, a paper that serves the special informational needs of that community will remain indispensable to a significant portion of its residents," Buffett wrote. "Charlie [Munger] and I believe that papers delivering comprehensive and reliable information to tightly-bound communities and having a sensible internet strategy will remain viable for a long time."
With programs such as Amazon Web Services and Kindle Publishing, Bezos has given developers and authors platforms on which to experiment and reap outsized rewards. Both programs have enjoyed outsized success. By buying the Washington Post, Bezos can now extend those kinds of opportunities to journalists.
Bezos says he will operate the Post independently from Amazon. But as Henry Blodget observed, there are plenty of ways the newspaper fits neatly into Amazon's digital ecosystem. So consider the Post another piece in Bezos's own emerging narrative: how one long-underestimated man is assembling one of the largest networks of devices, applications, and content that the technology world has ever seen, piece by piece, right before our very eyes.
Before it's here, it's on the Bloomberg Terminal.
LEARN MORE