Veterans: Minnesota B-School Wants You!
Elizabeth Rowe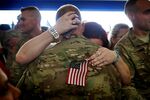 For U.S. military veterans, getting an MBA may not be an obvious stop on the career path. But with 275,000 veterans returning to civilian life each year, the University of Minnesota's Carlson School of Management is working hard to change that.
In April 2012, the school hired Charles Altman, a retired U.S. Navy commander who spent nearly three decades in the service, to recruit veterans for Carlson's MBA program. Altman knows first-hand that coming off active duty can be a difficult time of transition. "When you walk out of one professional life and into another, it's cold," he says. This serves as his motivation to help fellow vets navigate their return to civilian life. And he's getting results: The number of veterans enrolled in the school's MBA program has more than doubled, with 16 vets starting the program in the fall.
Altman says it's crucial that Carlson is able to provide a unique set of resources to veterans so that they can acquire the language of business and apply what they're learning to practical situations. Veterans benefit from Altman's mentorship, as well as the opportunity to participate in a business internship before beginning school in the fall.
The school also provides veterans with another valuable resource: tuition money. Thanks to a fund supported by philanthropic donations, veterans at Carlson receive assistance with tuition, as well as a stipend that they can apply towards housing and other necessities. The fund, according to Altman, has raised just over $7.5 million of its $10 million goal.
The enrollment of additional veterans has had a positive overall impact on the school. "We find that having some percentage of the class as returning from the military influences the classroom culture," says Carlson Dean Sri Zaheer. "They're more disciplined; they're used to hard work."
Altman agrees. "I had a comment from a professor here—the military students come to class all the time, sit in the front row, and raise their hand. There's a certain shyness that's shaken off in the military."
Join the discussion on the Bloomberg Businessweek Business School Forum, visit us on Facebook, and follow @BWbschools on Twitter.
Before it's here, it's on the Bloomberg Terminal.
LEARN MORE