Tempting China's Low-End Smartphone Buyers
Christina Larson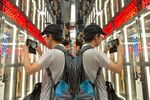 In the same week that Motorola and Google launched the new Moto X smartphone in New York, the Chinese mobile-phone company Xiaomi unveiled a new model in Beijing that also has potential to reshape a domestic smartphone market.
Like the Moto X, Xiaomi's new Hongmi ("Red Rice") is billed as a high-quality, moderately priced model—meant to appeal to the fast-growing lower end of the smartphone market in China. The upstart Chinese company announced last week that on Aug. 12 it will release its new smartphone, priced at 799 RMB, or about $130. The price tag "is incredibly aggressive for the specs it has," says Bill Bishop, an expert on personal technology markets in China and editor of the Sinocism newsletter. "[It's] great for consumers, brutal for component suppliers and handset makers."
A half-decade ago, smartphones were seen as luxury accessories in China, dangled as status symbols by aspirational Beijing and Shanghai residents; back then, Apple was the company to beat. No longer. The percentage of Chinese people regularly going online has jumped from 16 percent to 45 percent in just six years. Much of the rapid growth in Internet penetration has been driven by the swift adoption of smartphones and tablets, especially among consumers who never before had enough cash to shell out for laptops or PCs. (Among China's new and eager smartphone users: the country's millions of migrant workers, many earning just $500 per month.)
According to data from China's leading e-commerce company, Alibaba, 61 percent of the smartphones purchased on its e-tail sites, Taobao.com and Tmall.com, were models selling for less than 1000 RMB. Xiaomei's founder and chief executive officer, Lei Jun, told state-run China Daily that his company was now targeting this vast market: "I believe the Hongmi is the best product among all 1,000-yuan smartphones." Charles Custer, editor of the respected Tech in Asia industry website, doubts Lei is just bluffing: "Low price point is already Xiaomi's selling point and this [phone] is already cheaper; it will probably sell like hotcakes."
The Hongmi model uses an Android-based operating system, like most of Apple's competitors in China. (Android is a free, open-source software platform.) Sinocism's Bishop notes the irony, calling the ubiquitous operating system's dominance in China "Google's revenge." Although Google has dramatically scaled back its search-engine ambitions in mainland China, the handiwork of its Mountain View (Calif.)-based software engineers has "enabled the massive growth in smartphone penetration in China and put a huge dent in Apple's business prospects here."
Apple is reportedly working on a lower-priced smartphone to sell in China, but it may already be too late. Good-bye Apple. Hello Red Rice?
Before it's here, it's on the Bloomberg Terminal.
LEARN MORE