Swapping U.S. Crude for Mexico's Heavy Oil Won't Really Work
By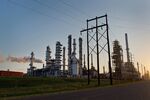 Not so long ago, the consensus among energy analysts was that all the world's easy oil had been found and that the only stuff left to be discovered was the dirtiest, gunkiest kind of crude. By the mid-2000s, the term extreme oil wasn't just a description of the future, but an increasingly present reality. Oil rigs began venturing further into ultra-deep waters to find oil trapped miles beneath the sea. Heavy mining equipment in western Canada began teasing a sludgy form of crude known as bitumen out of tons and tons of dirt and sand.
Heavy crude isn't just harder to extract, it's also harder to refine. To prepare, U.S. refiners invested some $20 billion on new equipment designed to process thicker types of oil. Then a funny thing happened: The U.S. shale boom unlocked vast quantities of some of the best oil on earth: light, sweet crude that's easy to refine into gasoline.
Just as they were arming for a future of heavy oil, refiners found themselves surrounded by some of the lightest crude on earth. It was cheap, too. There was so much oil coming out of North Dakota and west Texas that the price of domestic crude plummeted. Starting in 2011, West Texas Intermediate (WTI)—the benchmark for U.S. light, sweet crude—began trading at a discount to its international equivalent, Brent. From March 2011 to March 2013, a barrel of WTI was, on average, about $17 cheaper than a barrel of Brent.
But in the last few months, the price of WTI has surged nearly 25 percent, rising from $86 a barrel in April to above $107 on Aug. 1. The discount is now under $2. All that new U.S. crude is still high quality, but it's no longer cheap. As a result, refiners are getting hungry for cheaper, heavier oil so they can finally start recouping the investment they made to take the stuff. One place to look is Mexico.
Since the end of June, Mexican heavy crude has traded at a discount to WTI. As of Aug. 2, a barrel of Mexican Mayan crude was $8 cheaper than WTI. U.S. imports of Mexican crude have reflected that discount, rising in the last few weeks from an all-time low set in March. This plays into something that Adam Sieminski, head of the U.S. Energy Information Administration, has been talking about for more than a year.
Since taking over as administrator of the EIA in June 2012, Sieminski has talked publicly and also instructed his staff to study the possibility of the U.S. swapping its abundance of light, sweet crude for Mexico's heavy, sour oil. "When I first took over, I said we should start thinking about swapping some heavy oil for our light oil," Sieminski said in a recent interview. "The first place to look should be Mexico."
There are a few reasons why this doesn't work. For starters, Mexico uses a lot of heavy oil to generate electricity. Swapping it for more expensive lighter crude is improbable. Sieminski says that sending more light crude to Mexico could help the country make the transition to using cheap, U.S. natural gas for its power plants. While the amount of natural gas the U.S. exports to Mexico has tripled in the last three years, that's still a big ask.
The bigger problem is that Mexico's oil production is falling. Mexican President Enrique Pena Nieto has indicated he's willing to break the country's state-owned monopoly on oil production and allow private companies to invest in oil and gas operations in Mexico. That could goose production, but any gains are probably years away.
Another issue is that the U.S. has been so successful at cutting oil imports—reducing them by more than 1 million barrels per day over the last 12 months—that U.S. stockpiles are now lower than normal. Given lower supplies, a swap with Mexico "just doesn't make sense right now," says Sam Margolin, an energy analyst at Cowen and Company. "Plus, I'm not sure how it really helps Mexico."
What U.S. refiners really want is Canada's heavy crude. While Mexican oil has only just started trading at a discount to WTI, heavy oil from Western Canada has been cheaper for years. A barrel of West Canada Select is $21 cheaper than a barrel of WTI, twice the discount that the Mexican crude offers. Valero, the biggest refiner in the U.S., has recently started its own oil swap with Canada: Since this spring, Valero has sent two shipments of west Texas light crude to its refinery in Quebec, which is set up to refine the lighter stuff, rather than the heavier grades that Valero's Texas refiners are now capable of handling.
"We would like to increase heavier supplies from Canada and continue sending Texas crude up there," says Bill Day, a spokesman for Valero. Translation: Valero wants the Keystone XL pipeline to get approved. Even if it does, given the fluctuations in oil prices, it's not clear the refiners will ever recoup the investments they made in heavy oil processing. "They'll never make that money back," says Fadel Gheit, an energy analyst at Oppenheimer. "It's gone."
Before it's here, it's on the Bloomberg Terminal.
LEARN MORE