Passport to an MBA: Virginia's Darden School of Business
by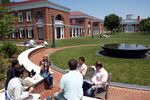 Passport to an MBA is an occasional series featuring interviews with MBA students from all over the world. The interviews were conducted at top business schools by Matt Symonds, chief editor of the B-school website MBA50.com and a guest blogger for Getting In.
The success of the case method in business school stems from the diverse range of backgrounds and views in the MBA classroom, according to Bob Bruner, dean of the University of Virginia's Darden School of Business. While bankers, consultants, and engineers take up plenty of seats, Darden and other top business schools look to bring together people with different viewpoints shaped by their unique experiences.
Janet Schroeder is a good example. After completing her liberal arts education at Middlebury College, she taught Chinese and became a recruitment officer at a boarding school in Connecticut. Despite her nontraditional background, she felt that an MBA would give her the framework to combine her knowledge of Chinese with her business sense and open up new career opportunities.
What follows are edited excerpts of our conversation just days before Schroeder graduated from Darden. Click here for a video of the complete interview.
Why Darden, and did you ever second-guess your decision to go to business school?
The case method was very important to me, and Darden and Harvard are the only two American business schools that are 100 percent case method. And within the case method I wanted a small school where I felt like I would really know my classmates on graduation day. Arriving at Darden on the first day I was a little bit nervous. I came in as a nontraditional student and didn't even know how to use Excel. So it was a little bit intimidating at the beginning, but knowing that I had come into a community that was going to support me and help me over the obstacles reassured me that I had made the right choice.
Do you have any admissions advice for those with a nontraditional background?
I think a lot of business schools today are realizing that there's a lot of value to be had in not having a room full of just bankers and consultants and traditional businesspeople. For Darden that's especially true because we are a case method study classroom, so it's really about the students teaching the students.
For nontraditional students, think about what you want to do and how an MBA will help you get there. For me, I knew that there were a lot of skills that came out of my education that I wanted to use, but in a different setting. I knew finance was of interest to me, so it was getting that MBA that would help me get there. Think about your current skill set and how is it applicable to the skills you want to use in a future career in whatever field you are interested in. If you can tell that story, that's the golden ticket.
Would you encourage more women to consider an MBA?
Sometimes women don't think about business school as a career path or as an education path, because you do it a little bit later in your career. So it can conflict with other personal-life decisions in terms of career trajectory. But Dean Bruner has encouraged us to reach out to women in our networks to talk about the idea of business school for those that wouldn't think about it otherwise.
And where will you do your work post-MBA?
I will be transitioning out of education into banking, so a pretty drastic switch, but I think that just shows the power of the Darden MBA. You can come in with any skill set and leave and do anything you want because of the strong training you receive here. I'll be going into the health-care space within commercial banking in Washington, D.C.
Join the discussion on the Bloomberg Businessweek Business School Forum, visit us on Facebook, and follow @BWbschools on Twitter.
Before it's here, it's on the Bloomberg Terminal.
LEARN MORE