Four Reasons Ray Kelly Would Be Crazy to Take Over Homeland Security
By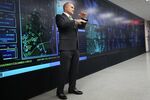 New York City Police Commissioner Ray Kelly must be savoring this moment. The city's tabloid newspapers and politicians are actively promoting him as a candidate to replace Janet Napolitano, the outgoing secretary of the U.S. Department of Homeland Security. President Obama says Kelly would "very well qualified for the job." How flattering it must be. But would it really be in Kelly's best interest to take the top job at DHS? Here are four reasons why Kelly might want to consider other career opportunities. They also apply to other potential candidates, including William Bratton, a veteran of the New York, Los Angeles, and Boston police departments; Boston Police Commissioner Ed Davis; and retired Coast Guard Commandant Thad Allen.
The Republicans Will Come After You
The DHS may have been created under the Bush administration, but many Republicans have since turned on the agency. Senator Tom Coburn, an Oklahoma Republican and ranking member of the Homeland Security and Governmental Affairs Committee, has decried grants DHS gives rural law enforcement agencies to arm themselves in the unlikely event of a terrorist attack. GOP Representative John Mica of Florida is sharply critical of the Transportation Security Administration, which is part of DHS. He wants to privatize the TSA's core function—conducting airport security screenings. Several other House Republicans have called for a probe of the DHS's ammunition purchases. The list goes on. Is it any wonder Napolitano has found something else to do?
So Will the Comedians
On Aug. 2, Bill Maher, the irascible host of HBO's Real Time, called for the abolition of the DHS on his show: "Do you think we can get rid of the Department of Homeland Security? I mean, this is one of those monstrosities that came out of 9/11. It has, I think, 240,000 regular employees—Janet Napolitano quit at the top. The top 15 jobs there are vacant because no one wants to work there. It's thankless because some s––- is going to happen and it's mostly luck whether you're there or not when it happens. You can't stop everything. No one wants the job. Why don't we just get rid of it?" Granted, Maher was trolling for laughs. But he has a point. With so many vacant leadership oppositions, why should someone with Kelly's credentials apply at the DHS?
It's Not a Stepping Stone to the White House
There was a time when the media talked about Napolitano as a potential presidential candidate. In 2010, the New Republic's Michelle Cottle encouraged such speculation in a profile of the DHS secretary: "She has for years been among the first mentioned whenever speculation arises about who will become our first Madame President." After four years at the helm of the troubled DHS, the idea of Napolitano becoming president seems laughable. That's not to say she isn't presidential material. She's departing to take a job as president of the University of California system. It's a long way from Washington. Maybe that was the idea.
Your Corner Office Won't Be Ready for a Long Time
DHS has been trying to build a new headquarters on the campus of St. Elizabeths, the former Washington mental hospital, since 2006. It's the biggest new Beltway construction project since the Pentagon went up. It was originally scheduled for completion in 2016. Now the project is $1 billion over budget and 10 years behind schedule. By that time, the next DHS secretary will be long gone.
Before it's here, it's on the Bloomberg Terminal.
LEARN MORE