Even Without Its Newspaper, Washington Post Is Still Tied to a Declining Business
By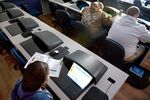 Washington Post shareholders seem keen on the $250 million sale of the company's namesake newspaper—the stock surged by almost 7 percent on the news. But the motley collection of assets left behind after the deal with Amazon.com's Jeff Bezos—namely, the Kaplan higher-education business, a cable company, and a few TV stations and smaller publications—aren't nearly as attractive as they once were.
The remainders certainly aren't as lucrative as the package of movie and TV properties that 21st Century Fox shareholders kept in in June, when the old News Corp. finally chiseled off the Wall Street Journal, Dow Jones, and the rest of its journalism empire into a separate company, a split long sought by investors. Most of what will be left of the Washington Post will be driven by Kaplan, a for-profit education business facing a period in which the government is increasingly skeptical of the for-profit model and increasingly aggressive about trying to steer students away. In addition to the eponymous test-prep center, Kaplan runs a predominantly online university, a Web-only law school, and KHE Campuses, which offers select classes at 59 different schools.
All the offerings are hugely dependent on federal student loans—so-called Title IV funds account for 40 percent of Kaplan revenue of late. In July 2011, the government made it much harder for schools to stay eligible for that money. Under an extensive new set of rules, outfits such as Kaplan were required to instate attendance requirements, proof of high school graduation, and proof of academic progress, among other things.
Expecting the change, Kaplan had prepared for tougher times a few months earlier by letting students take several weeks of classes for free. That change meant the newcomers didn't become official students until it was clear whether they could hack it. Apparently a lot of them couldn't, because the try-before-you-buy program led to a significant decline in enrollment and retention.
Last year, Washington Post's student body fell by 12 percent to 65,470, according to SEC filings. Not surprisingly, Kaplan revenue declined by 8.7 percent, to $2.2 billion and the unit swung to a $105 million operating loss, as the Post was forced to take a $112 million write-down of goodwill on its education properties. Such numbers make even the long-suffering, fish-wrap newspaper business look somewhat decent.
Granted, the rest of the grab-bag Bezos will leave at the Post isn't nearly as bad. Cable One, which serves about 600,000 video subscribers in 19 states, is fairly stable. Last year, it churned out a 20 percent operating profit on $787 million in revenue, though its customer base shrank slightly. And the Post's handful of TV stations—three in Florida, two in Texas, and one in Detroit—practically print money. They booked $192 million in operating profit last year on $400 million in revenue.
Meanwhile, the company continues to act like a public-equity firm, buying stakes in an at-home health-care company and an outfit that makes industrial parts for power plants—all part of its "decentralized operating philosophy." Maybe it will stumble into an early stake in the next Amazon.