CVS Is Pushing Obamacare. Will it Backfire?
By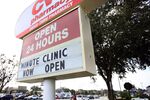 The Affordable Care Act is a bit of a Rorschach test. The law's legions of opponents see what they call "a government takeover of health care." Fans see a new social program that'll become "extremely popular." When pharmacy chains look at Obamacare, they see new customers.
CVS Caremark recently announced that it would use its retail stores to promote the new health law to uninsured Americans who will be eligible to buy coverage through new online insurance marketplaces, starting on Oct. 1. Stores may host so-called "navigators," who will be employed by states to act as advisers helping people enroll; this means that confused shoppers could walk into a CVS store armed with questions and walk out having figured out which health plan suits them best. Walgreen last month made a similar announcement that it would help get the word out about Obamacare's options online and in stores.
It's a pretty simple equation: The U.S. market for health care is about to grow as millions of people become insured, and companies that sell medicine are trying to capture as much of the growth as possible.
What about the potential backlash from Obamacare foes? A Minnesota group called Citizens Council for Health Freedom blasted CVS in a news release on Monday, calling on shoppers to stay away. "Don't alienate customers with politics and push away more than half of Americans who disapprove of Obamacare," the group wrote. Asked if it's worried about angering ACA critics, a CVS spokeswoman said in an e-mail that the company wants to help customers "make informed decisions" about health-care options.
CVS is the country's second-largest drug-benefit manager, with a retail footprint of 7,400 stores. It seems pretty clear that the company figures it has much more to gain from new Obamacare customers picking up everything from greeting cards to toilet paper on a trip to the pharmacy than it stands to lose by disaffecting right-wingers, who may shop elsewhere. "We have a unique opportunity to introduce [customers] to the other products and services available across the entire store," Mark Cosby, president of CVS's retail business, said on the company's earnings call on Tuesday morning, according to a transcript. CVS reported $31.2 billion in revenue and adjusted earnings-per-share of $0.97 for the second quarter, slightly above analysts' estimates.
Pharmacy chains are increasingly moving beyond simply selling medication to directly providing such health-care services as flu shots and exams. CVS operates 684 clinics in stores and plans to have nearly 800 by yearend. The company sees opportunity with so many new patients getting insurance and not enough primary care doctors to treat them. "Our longer term goal is to create a national primary care platform," Chief Executive Larry Merlo said on the call today. Helping people sort through their health-plan choices just might be a natural fit.
Before it's here, it's on the Bloomberg Terminal.
LEARN MORE