Cities Bid to Learn From New Orleans
By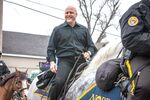 When Hurricane Katrina slammed New Orleans in 2005, some predicted the city would take decades to recover. But the Big Easy proved remarkably adept at reviving its fortunes, even as it weathered more storms, both natural and man-made. What spurred the comeback? A determined population and federal aid obviously helped. But Mayor Mitch Landrieu points to a lesser-known factor: Judith Rodin and the Rockefeller Foundation. "They've been working with us since Katrina," Landrieu said this week. "Really helping us figure out how to become more resilient."
New Yorkers may recognize Rodin as the woman tapped by Governor Andrew Cuomo to help the state boost its resiliency after superstorm Sandy. In fact, the Rockefeller Foundation president was preaching resilience long before Sandy hit, and on Monday her nonprofit group let cities with at least 50,000 residents start applying for a chance to get the kind of help that New Orleans received. The goal: to create more shock-proof cities and spark a global conversation on how to prepare for unexpected disasters. The 100 Resilient Cities Centennial Challenge, as it's called, is the centerpiece of a $100 million push to promote urban resilience.
Rockefeller will choose the winners after applications close on Sept. 23 and work with each city to assess and boost resilience, with money to hire a chief resilience officer and help from Rodin's team in preparing a plan. The biggest payoff is membership in a global network of city leaders who can share best practices and tap the foundation's expertise in such areas as infrastructure financing, public-private partnerships, Big Data solutions, and land-use assessment.
With so many cities located on coasts that are expected to bear the brunt of climate change, extreme weather events are an obvious place to start. But Rodin says cities also have to bolster their defenses against cyberattacks, market crashes, political coups, biological warfare, and any number of other events that threaten their communities. "We can't predict what the next shock will be," she says. "But we can be better prepared to handle it." Even nature's outbursts can play out in unfamiliar ways. As Landrieu says, "Wind events can turn into water events, which can quickly turn into electrical events."
No one disputes the logic of installing back-up generators in places that are least prone to damage or building sea walls. The bigger challenge is getting various jurisdictions and levels of government working together on common threats. The roadblocks are often less political than structural, from incompatible IT systems to different regulations and protocols on dealing with disaster. The relative impact of an event also depends on the mix of geographies, industries, and populations in a community.
One common bond, in Landrieu's view, is the growing sense among urban leaders that they need to think about the unthinkable. "One of the unfortunate consequences of Katrina is everyone thought there was something wrong with the people of New Orleans," he says. "Now everybody is starting to understand we're in the same game. Whether it's the bridge collapse in Minneapolis or tornadoes in Oklahoma, we realize catastrophic events can happen and we're not as resilient as we should be."
Of course, Rodin is hardly alone in her clarion call to build resiliency. Mayors have met to talk about it, as have presidents and policy makers through the World Economic Forum and numerous other groups. But few systems are better designed for resilience than cities, according to Black Swan author Nassim Nicholas Taleb, whose latest book Antifragile argues that systems succeed by adapting to chaos, not controlling it. While nation-states are prone to war, in his view, cities are built for commerce. "Cities are perhaps the best human invention," he notes. "Some do well, others do poorly, but it's a healthy system."
New Orlean's Landrieu is inclined to agree. "We took Katrina as an opportunity to build the city—not back to the way she was before, but to the way she should have been," the mayor says. "What you learn when you go through all that agony and pain is that you have to be better and stronger. The other other thing you learn is there are a lot of folks are going through the same thing, and you can help each other."
Before it's here, it's on the Bloomberg Terminal.
LEARN MORE