A-Rod Is Missing in Action
By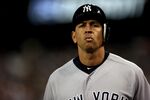 Coleman's career declined after he was injured the following season, relegating him to a bench role. He was forced to retire after the 1957 season, but he left on a good note; hitting .364 in a World Series loss against the Milwaukee Braves. He appeared in the World Series six times in his career, winning four of them.
—Jerry Coleman, Wikipedia.
Jerry Coleman "declined" after 120 combat missions and two Distinguished Flying Crosses—this after serving in combat duty in two wars.
He was signed by the Yankees at 17, enjoyed a visit to the Solomon Islands and the Philippines in 1943 and 1944, then worked his craft in the minors. He played three major league seasons, then was "suspended" for the 1952 and 1953 campaigns to campaign above the Korean Peninsula. At 29, he returned to the Bronx, culminating in his exquisite World Series against the 1957 Braves.
The lieutenant colonel was lucky. He came home.
Robert Troy, Harry O'Neill, Robert Neighbors, and nine other "major leaguers" did not.
Bun Troy died in October of 1918 at Evacuation Hospital 8, Petit Maujouy, France. This, after facing Walter Johnson in his only game played.
In July 1939, Harry O'Neill caught one game for the Philadelphia Athletics. He did not bat. First Lieutenant O'Neill died with 91 other officers of the Marine 4th Division at Iwo Jima. His West Pacific swing included Kwajalein, Saipan, a hospital ship, then Tinian, and then Iwo Jima.
Bob Neighbors played seven games for the St. Louis Browns of 1939. Serving stateside in World War II, Major Neighbors did not return to baseball after the war. He chose to return to a cockpit of a Douglas B-26 Invader in Korea. He has been missing in action since the night of Aug. 8, 1952.
(All of the above can be found at the website Baseball's Greatest Sacrifice. It is a jewel.)
We experience in this summer of 2013 a charade. Alex Rodriguez and Major League Baseball—and we who participate—have become disjointed from what matters. I note that ESPN, minting eyeballs, has given credible coverage, with special note to Doug Glanville and Curt Schilling.
Come October, we will be transfixed by a geometry unchanged from 1912, 1939, and 1957. In the meantime, in each and every way, A-Rod is missing in action. Discuss.