What Do Chinese Women Want?
Christina Larson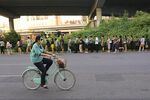 As "6" and "8" are auspicious numbers in Chinese culture, June and August are considered lucky months to get married. In the summertime, couples in wedding attire posing for photographers near parks and monuments are a common sight in large Chinese cities.
In a traditional Chinese wedding ceremony, the bride is carried—literally in the groom's arms, or by car—from her parents' home to her new husband's family home. Symbolically, she's leaving behind her old life to join the groom's household. It's a bit old-fashioned, given that Chinese women now expect to play as much a role in shaping their destiny as a husband or his family will.
Modern Chinese women face greater choices, responsibilities, and pressures than ever before. One recent study indicates they aren't necessarily content. St. Louis-based FleishmanHillard, a global public-relations firm, last month released "Women, Power & Money," an in-depth comparative survey of women's attitudes in five countries (the U.S., U.K., France, Germany, and China). According to the 600 respondents in mainland China, Chinese women were the least likely to be satisfied with their marriages. Only 37 percent agreed with the statement "I am very fortunate to have my spouse/partner in my life." Just 20 percent agreed with "My spouse/partner is the ideal companion I always dreamed about." Ouch. (By contrast, American women were the most happily married, with 73 percent and 48 percent agreeing with those respective statements.)
Meanwhile, Chinese women were attentive online shoppers. Sixty-eight percent said they had used a smartphone or tablet to comparison shop, making them nearly twice as likely to do so as American women (35 percent). That's not surprising given the prevalence of online shopping in China, where it's common to order everything from sunglasses to stilettos to washing machines on Taobao.com.
Choice isn't always a good thing. Fifty-three percent of Chinese women said they felt overwhelmed by product options and shopping decisions (compared with 32 percent of American women). They also expressed more concern about product safety and quality. That may be one factor behind the continued preference in China for brands associated with reliability—and luxury. Viva Gucci.
Before it's here, it's on the Bloomberg Terminal.
LEARN MORE