U.K. Services Have No Weapons Lying Idle
by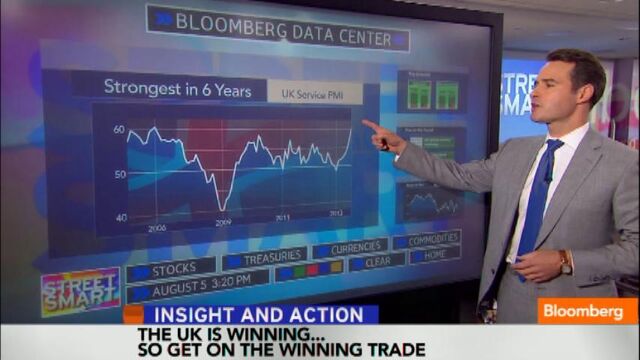 "...Nor shall my sword sleep in my hand,
Till we have built Jerusalem
In England's green and pleasant land."
-William Blake, 1804
The strength of the U.K.'s services industry proves no swords have been sleeping in any English hands this year. London's bankers, lawyers, and insurers have been busy.

A gauge of activity rose to 60.2 from 56.9 in June, the highest since December 2006, Markit Economics and the Chartered Institute of Purchasing and Supply said today. Any number above 50 implies expansion, and the U.K.'s services expansion is both strong and broad-based: sales increased at the fastest rate since November 2006; confidence rose to a 15-month high; and payrolls ticked higher. Taken in conjunction with last week's higher-than-expected manufacturing data, economists can understand why Bank of England Governor Mark Carney held interest rates steady last week. Also, the U.K.'s relative strength compared to the U.S. is noteworthy:

Currency strategists are reiterating the obvious.

Curiously, the pound is still trading near the low end of its one-year range versus the dollar. However, the team at Citigroup believes this will change, especially as further economic improvement allows the BoE to tone down its forward rate guidance. Bottom line: it may be time to buy the pound.

Finally, blog readers will appreciate Citi's comments about the pound vs. the euro: "The current EURGBP overvaluation is more than two standard deviations above its historic mean -- we think this is topping out." In other words, the cross-rate seems at odds with U.K. expansion versus euro-zone contraction, which is an argument for buying the pound versus the euro.
Whether pound/euro or pound/dollar, book your London vacation now before it gets too expensive.
Before it's here, it's on the Bloomberg Terminal.
LEARN MORE