Three Big Indians to Revive a Century-Old Motorcycle Brand
By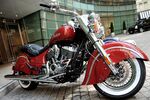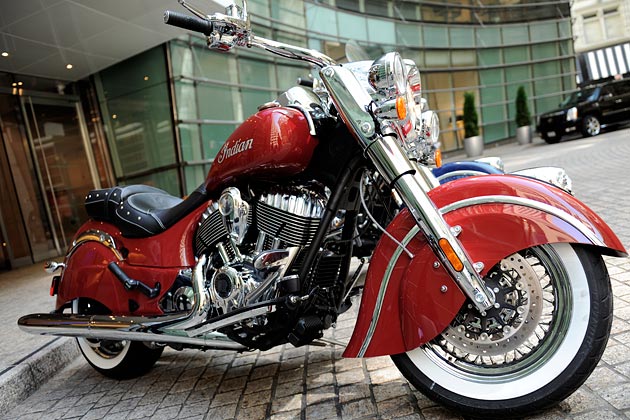 And they're off! Polaris Industries Chief Executive Officer Scott Wine visited Bloomberg on Monday to unveil three Indian motorcycles that go on sale this month. The company had been talking up just the Indian Chief Classic, which starts at $18,999. Now it's started selling the Indian Chief Vintage, a $20,999 bike with soft-sided leather bags and a quick-release windshield that Wine demonstrated. while noting that he's ordered this model for himself. (Red leather, for those who care.) The largest is a $22,999 Indian Chieftain, modeled on a 1930s locomotive with hard bags, a power windshield, and Bluetooth-enabled audio.
Together, they're the first test of what Wine calls a "$100 million bet" on resurrecting America's oldest bike brand.
Whether the trio will woo enough fans to dent Harley Davidson's dominance remains to be seen, but the vintage-style bikes did draw a small crowd in the courtyard outside the Bloomberg building in Manhattan. I stopped by with someone who has seen many a brand come and go: Jan-Benedict Steenkamp, a marketing professor from the University of North Carolina in town to promote his new book, Brand Breakout. The professor asked the Polaris CEO how this line might entice Steenkamp's 22-year-old son, who associates heavyweight cruisers with men having mid-life crises. Wine's response: "Start with the fact that it's not Harley Davidson." The Polaris chief also claimed that his company's 15-year-old Victory motorcycle line already outsells Harley among military personnel, and he argued that Indian's style, handling, and engineering will draw in new buyers.
Still, Wine took pains to emphasize that the Indian and Victory brands remain separate beasts in terms of engineering and design; to avoid brand confusion, the company has kept all aspects of production divided since it bought Indian in 2011. His nightmare scenario? "Ford-Jaguar," he said somberly. Jaguar lost its luster after Ford bought it in 1989, in part because the U.S. carmaker cut costs by using parts from other brands. That changed when Tata Motors took over in 2008 and kept Jaguar a separate entity. One result: The Jaguar F-type, launched with a 2013 line, won World Car Design of the Year and won accolades from the Wall Street Journal's Dan Neil, who called "the best way to spend $100,000 on a sports car."
That's the kind of success Wine dreams of having with Indian. While the new line has wowed New York Times critic Jerry Garrett and even impressed Professor Steenkamp, the long, uphill journey against Harley could take years. With Polaris making most of its $3.2 billion last year from all-terrain vehicles and snowmobiles, Wine doesn't seem to mind the wait. If the company sells three thousand or four thousand Indian bikes this year and doubles that next year, he said it will be on its way.
Wine also suggested that a marketing push and the prestige of the Indian brand also could boost Victory's fortunes. Having relaunched a motorcycle brand born in 1901, Wine now plans to give some polish to the one born in 1998. "I love all our children," he said. "I think it's time to turn a bit more attention to Victory, too."