pursuits
The Post-Doping Squeeze Play on A-Rod Memorabilia
By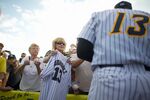 Alex Rodriguez may play again—heck, he may even claw his way into the Hall of Fame. if future voters go soft on performance-enhancing drugs—but a 211-game suspension from Major League Baseball cements his status as one of the biggest busts in the game of buying and selling memorabilia.
"You almost can't give his stuff away," says Steve Verkman, whose Clean Sweep Auctions sells more than $3 million worth of cards, balls, and other totems of the national pastime each year. "Collectors who have his stuff are in trouble—they're going to be sitting on it forever."
This week, Clean Sweep is auctioning a baseball signed by A-Rod in 1993, during the salad days of his career. It has yet to draw a bid of $40. Elsewhere, The price of a pair of cleats worn and signed by the third-baseman has dropped from $3,000 to $1,000. An autographed photo of A-Rod awkwardly squatting in the infield dirt can be had for $45, down from $150. Meanwhile, EBay is full of cheap pinstriped No. 13 jerseys at the moment.
This for a player whose statistics and milestones are the stuff of legend: three MVP awards, the youngest slugger in history to hit more than 600 home runs, the only player to smack more than 100 RBIs in 14 seasons.
Collectors, it turns out, are a fickle lot, and the memorabilia market values personality and off-the-field antics at least as much as careful performance metrics. Ever hear of Cap Anson? Probably not. He was the first player to smack 3,000 hits and the first true superstar of the game. But he also took credit for segregating baseball, a bit of braggadocio that has weighed on his value ever since.
The market swings the other way, too. The supply of Honus Wagner autographs is massive, according to Verkman. He lived to be 81 and happily jotted his name on anything waved in his face or sent to his house. But he was so well-liked that his name is still as good as gold, despite the glut of autographs.
Brooks Robinson, a Baltimore third baseman, is also a memorabilia growth stock. He was such a fan favorite that his rookie card sells for almost twice as much that of his notoriously prickly teammate Frank Robinson, an outfielder with far better career numbers.
A-Rod hasn't been a fan favorite since he bailed on the Mariners. In terms of popularity, he struggles even to hit singles while Yankees teammate Derek Jeter dominates. Both players have been injured for much of this season, yet Jeter's jersey remained No. 7 on the league's top-selling list, a roster that A-Rod hasn't made for years. Then again, Jeter has never been accused of commissioning paintings of himself as a centaur. (Or, you know, taking banned substances.)
Matt Powell, an analyst at SportsOneSource, estimates that the total market for new A-Rod jerseys will amount to less than $50,000 this year, down from $1 million in 2010. Beyond personality, nothing sinks value like the stain of a performance-enhancing drug scandal. Verkman says prices for knick-knacks from Barry Bonds, Sammy Sosa, Roger Clemens, and Mark McGwire dropped by 80 percent when the earlier wave of accusations first hit in the late 1990s.
Some of the only buyers now are collectors that need to complete a series—say a card for every player to hit more than 500 home runs. "In the collecting world, I don't see that stuff ever coming back," Verkman says. "Same with A-Rod, although you never know. I guess he could rescue a planeload of orphans or something."
Before it's here, it's on the Bloomberg Terminal.
LEARN MORE