pursuits
Picking Fire Morels for Fun and Massive Profit
By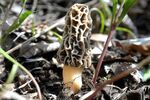 I made a trip to rural Idaho this weekend and learned some things. For one, John Deere has its own brand of hand sanitizer, and it's sold in a store full of genuine John Deere parts and hundreds of genuine John Deere toys, such as pint-size combines and seed drills. I also learned that crop duster pilots tend to be insane daredevils who fly at night so as not to upset bees, meaning they must go between and underneath power lines in almost total darkness. And there's an Indian man living in Grangeville, Idaho, who will ride into a group of wild horses and jump from his horse onto one of the wild ones' back to tame it, and he used to be a Navy Seal.
But what really has central Idaho in a tizzy at the moment is mushrooms and the so-called fire morel mushroom in particular. Last year, forest fires swept through Idaho. As it turns out, these fires trigger a process in which certain types of morels will appear in huge quantities the following year. The "fire" or "burn" morels tend to have an earthy taste and a texture that sets them apart from other morels, making them desirable for chefs around the world. So mushrooms pickers have descended on Idaho this summer, and mushroom buyers have set up temporary outposts to purchase and distribute the fungi.
According to some undoubtedly reliable people in a Grangeville bar called the Establishment—aka the Stab, to locals—the fire morel pickers are earning $20 and more per pound for these mushrooms. Some very agile and committed pickers have been taking in about $1,500 per day in cash.
If you're interested in becoming a fire morel magnate, the Internet is here to help. There's a guide to where to find the mushrooms and what to wear when you're picking them. There's a book on how to do all of this profitably. And of course, there's a forum where the pickers and buyers meet.
Happy hunting!
Before it's here, it's on the Bloomberg Terminal.
LEARN MORE