MLK Memorial's Scrubbed Inscription and the Age of Abridgment
By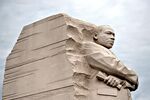 Chinese sculptor Lei Yixin is a man of his time. In his 2011 memorial to Martin Luther King Jr. in Washington, he reduced a key quote in the civil-rights leader's last sermon to a Twitter-worthy line: "I was a drum major for justice, peace and righteousness." As of this month the paraphrase is gone from the edifice on the National Mall. The issue wasn't that King never said it, but that the clunky shortcut gave a false impression of both the man and his message.
Critics pointed out that the phrase made King seem self-aggrandizing and boastful. As poet Maya Angelou put it, the quote made King come off like "an arrogant twit." In fact, his February 1968 speech played off a quote about the "drum major instinct" to be at the front of the parade as a way to stress that what matters is why you're there. The full quote: "Yes, if you want to say that I was a drum major, say that I was a drum major for justice. Say that I was a drum major for peace. I was a drum major for righteousness. And all of the other shallow things will not matter."
If nothing else, King's quote is more poetic and nuanced than what ended up on his statue. But that quote is also 45 years old, forged in an era when you'd probably hear about it from Walter Cronkite on national TV. It's interesting to ponder how King might convey his message if he were starting out today. On the one hand, he would have direct access to people through YouTube and social media. But he'd also face more pressure to craft a message that can pop online. That full drum major quote still resonates, but it's 79 characters too long for a tweet.
Just food for thought in an era where everything from books to board games is getting shorter—a version of Monopoly just released by Hasbro can be played start-to-finish in half an hour. Lei Yixin unwittingly did a disservice to King in truncating his words, but it's worth noting that members of King's family are OK with a plan to leave blank the area where the abridged quote had been. While they would have preferred to see the full quote inscribed there instead, they understand the limitations of space.
Before it's here, it's on the Bloomberg Terminal.
LEARN MORE