Jerry Brown Averts a BART Strike—for Now
By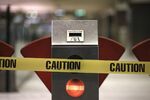 Just two hours before a midnight deadline, California Governor Jerry Brown stepped in to avert a strike by workers for the Bay Area Rapid Transit system. Citing the commuting disruptions the shutdown would cause, he ordered a one-week pause in negotiations. The unions wanted no break at all, while BART management had requested a 60-day timeout. It's textbook Brown, whose "unsentimental, grown-up leadership," as writer Joel Stein put it in our April cover story, makes neither side happy but has proved successful in tackling some of California's most intractable problems.
Brown's order also gives a three-person board one week to investigate the current state of affairs in the negotiations. The board will consider what each side has offered, how committed they've been to finding a solution, and whether a longer pause would help. This isn't the first delay in contract negotiations. After a strike last month, the two unions representing BART workers agreed to a 30-day contract extension, but that stopgap measure expired at midnight on Sunday. If the pause is to be successful, it will need to help both sides bridge the big difference on pay and benefits. Here's a rundown of some key numbers:
THE CONFLICT
251 percent: Increase in the costs of medical insurance for BART workers in the past dozen years, from $24.6 million to an expected $86.4 million next year, according to the San Francisco Chronicle.
268 percent: Increase in the monthly premiums BART workers pay for health insurance, from $25 to $92, over the same 12 years.
$0: Employee contribution to the pension plan
$80,000: Median pay for BART employees, according to the Los Angeles Times.
$80,703: Income required for a single parent with two kids "to attain a secure yet modest living standard" in the Bay Area, according to the Economic Policy Institute.
THE COMMUTING IMPACT
16 percent: Share of Bay Area employees who take public transit to work, according to a study (PDF) by the Public Policy Institute of California. Another 56 percent drive alone, and 14 percent carpool.
51 percent: Share of the more than 300,000 weekday BART trips that cross the San Francisco Bay, according to ridership statistics. (The other half either rode within the San Francisco peninsula or within the East Bay.) The trans-bay riders will face the biggest potential disruptions because there are more limited travel options for them.
$5: Value of gift cards to Peet's Coffee & Tea that the Metropolitan Transportation Commission offered to give drivers who provide rides to other commuters crossing the East Bay in the event of a strike.
Before it's here, it's on the Bloomberg Terminal.
LEARN MORE