Hoping to Grow Rich Turning Napoleon Hill's Think and Grow Rich Into a Web Series
by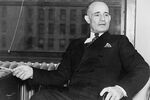 Napoleon Hill was a writer who got his lucky break in 1908 when Andrew Carnegie told him to interview America's foremost industrialists on the secrets of their success, according to lore. Thirty years later, Hill published Think and Grow Rich—an inspirational tome that set out a series of principles for personal achievement. (Sample chapter titles: "Desire: The Turning Point of All Achievement," "Decision: the Mastery of Procrastination," and "The Mystery of Sex Transmutation.")
The book has sold at least 60 million copies worldwide since it was published in 1937, says Don Green, executive director of the Napoleon Hill Foundation, which controls the copyright. Megarich folk such as Oprah Winfrey, Mitt Romney, and Oracle Chief Executive Larry Ellison are reputedly fans. To spread Hill's 75-year-old gospel of success to younger generations, Hollywood veterans Stephen Simon and Scott Cervine are working on a Web series dramatizing the book. Last month they launched a crowdfunding campaign with a goal of raising $650,000. As of Monday, it had about $5,000 in donations.
Simon, whose producing credits include What Dreams May Come and Bill & Ted's Excellent Adventure, will focus on a fictional 29-year-old mobile app developer. The idea is to appeal to would-be entrepreneurs who've never heard of Napoleon Hill. Here's how the filmmakers set the scene on their Indiegogo page:
"You are broke, bankrupt, and desperate. Then suddenly someone comes into your life and gives you a way to change all that. You come up with an idea for an app that people all over the world want, and in an instant, all of your dreams come true."
I spoke to Simon about the project. Edited excerpts of the conversation follow.
Why this project, and why now?
At this point Think and Grow Rich seems to be much better known and followed by people over the age of 40, maybe even over the age of 50. When the book first came out, America was just getting out of the Great Depression, and its message—that success is a good thing, that you have to believe in yourself and work yourself into a white heat trying to be successful—was inspiring to a lot of people.
We're just getting out of a recession today, and there has been a lot of negativity, with Occupy Wall Street and such, about business and success. It's way past time for a series of movies that shows people who are ambitious and hardworking and honest and decent. We want to reach the younger generations with the message that it's a wonderful thing to be ambitious, and it's no embarrassment to want or attain financial abundance.
What's it going to be like?
I hope it's going to feel like something that was put together by HBO and Comedy Central, but I don't want to compare it to things that have been done before. We're planning three or four sets of four or five episodes each. The first set will focus on a 29-year-old male app developer. At the end of the third episode, our main character comes up with the idea for an app that he thinks is going to make him successful and address a human emotion, but he's not sure how to execute on the idea. So he's going to turn to the audience and say, "What do I do?" And we're going to invite the audience to participate in a unique way.
Spike Lee was criticized recently for using Kickstarter to raise money from fans. How did you make the decision to fund the project this way?
My name is Stephen Simon, not Steven Spielberg. I've been making movies for 35 years, and I've had a lot of fun, but it hasn't made me wealthy. When you work for a studio, they're the money, and they call the shots. Crowdfunding gives us a vehicle where we can retain control. No one's asking, "Why does everyone keep their clothes on, why isn't there a fast food tie-in?" We've been working on this for over a year, and we've put in thousands of hours, so it's not as if we haven't invested anything. Hopefully, along with the theme of Think and Grow Rich, that will happen with these films: We'll retain profits and artistic control, and we'll grow rich ourselves.
Before it's here, it's on the Bloomberg Terminal.
LEARN MORE