Gauging Small Business Hiring: Slight Slowdown in July
by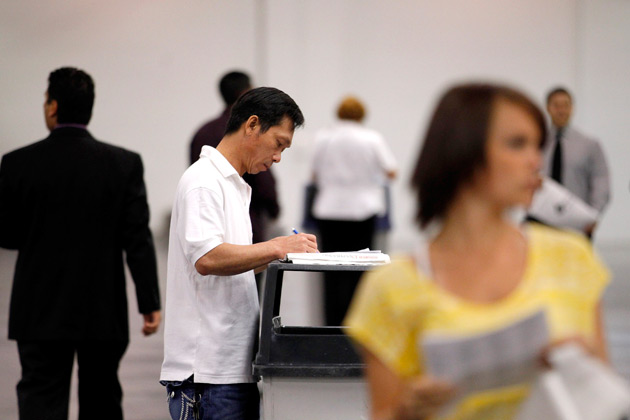 The U.S economy added 162,000 jobs last month, according to data released Friday by the Bureau of Labor Statistics, after adding 176,000 jobs in June. How did Main Street contribute to national hiring trends? As always, it depends how you define "small" and whose numbers you trust, but according to multiple surveys, small business hiring declined slightly in July. Here's the New Entrepreneur's monthly rundown of small business hiring reports:
According to the ADP National Employment report, companies with fewer than 50 employees added 82,000 jobs in July, after adding 84,000 jobs in June. Businesses with fewer than 20 employees drove last month's gains, with those companies adding 51,000 workers.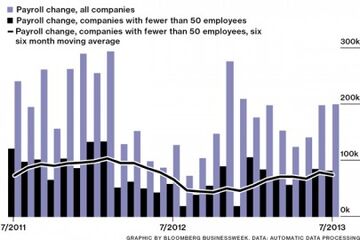 Small businesses pared staffs by a very small amount in July for the third consecutive month, according to a survey of 1,615 member companies of the National Federation of Independent Business. About 90 percent of NFIB members have fewer than 20 employees.
The CBIZ Small Business Employment Index, which measures hiring trends for 3,500 companies with 300 or fewer workers, also showed that small businesses hired slightly less in July than in the month before, with the index falling 0.57 percent.
Small business owners' confidence remains high despite negative hiring trends, according to the SurePayroll Small Business Scorecard. Seventy-two percent of business owners surveyed said they were optimistic about the economy, even as SurePayroll's hiring index fell 0.1 percent.
The unemployment rate for self-employed workers, unincorporated, and unpaid family workers was 5 percent in July, down from 5.9 percent in July 2012, according to the BLS report. While the overall unemployment rate decreased to 7.4 percent, from 7.6 percent, average hourly earnings and the length of the average work week also fell, Bloomberg News's Shobhana Chandra reports.
Before it's here, it's on the Bloomberg Terminal.
LEARN MORE