For Cable-TV Operators, Bigger Is Looking Even Better
by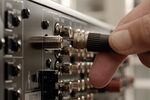 The current battle between CBS and Time Warner Cable over programming fees illustrates an argument made by many in the industry: Bigger is definitely better for a cable-TV company.
Time Warner shut off CBS channels in several major cities on Friday amid a continuing dispute over how much money the network is seeking to let the pay-TV company carry its programming. CBS wants $2 per month per subscriber, roughly double what Time Warner currently pays, as Bloomberg News reported today, citing people familiar with the negotiations. Also under debate is whether the cable company can offer CBS programs to subscribers via mobile devices.
The retransmission fees are passed on to cable subscribers' bills, which now top $100 per month thanks largely to the increasing costs of sports programming. Walt Disney's ESPN, the most lucrative channel in television, charges more than $5 per subscriber each month. At current trends, the average monthly bill will reach more than $200 by 2020, according to a 2012 report from research firm NPD Group. The trouble for companies like Time Warner Cable and Cox Communications, however, is that their programming costs usually rise much faster than the prices they assess subscribers.
That's one reason Charter Communications, the fourth-largest cable operator, is reportedly talking with Cox, the third-largest, about a potential merger, according to Bloomberg News. Charter has also raised the subject with Time Warner Cable and was rebuffed, although John Malone's Liberty Media, which owns 26.6 percent of Charter, is still interested in a merger with Time Warner Cable, according to media reports.
"Ultimately, you're looking at an industry that's going to be three to four big players," says Macquarie analyst Amy Yong. "It makes a lot of sense for these companies to combine."
The chief reason would be to help control retransmission fees, which are dictated to a large extent by subscriber base. Comcast, by virtue of being the largest cable company, with 24 million subscribers, is widely believed to enjoy the lowest retransmission fees in the industry, which pays some $3 billion annually to content owners including CBS, Fox, and Disney. Time Warner Cable's programming expense was $33.60 per month per customer in the second quarter—$8.69 less than the much smaller Charter paid, estimates Jeff Wlodarczak, an analyst with Pivotal Research Group in New York. "In my my opinion, there is no better deal to be had for Charter by a wide margin than going after Time Warner Cable," he wrote in an e-mail.
These fees are also one reason Aereo—the startup backed by Barry Diller that puts over-the-air TV broadcasts on the Internet—has been sued by programmers and cheered on by cable. Aereo does not pay retransmission fees. A Time Warner Cable spokeswoman said last month that the company may recommend Aereo for customers. (Bloomberg LP, which owns Bloomberg Businessweek, is an Aereo partner and offers its cable channel on the service.)
Mergers among Big Cable would also provide cost savings for the companies in terms of operational and capital spending, as they'd be better able to spread the costs of new technology platforms across larger customer bases. Indeed, shares of cable television players have enjoyed a smart run in 2013, mostly because of "some M&A premium" priced into the sector, says Standard & Poor's analyst Tuna Amobi. Comcast and Time Warner are up 23 percent and 20 percent, respectively, while Charter has surged 73 percent and Cablevision is up 31 percent.
"More and more investors are willing to support that kind of play today, especially if you think about the financing options," Amobi says. "Three years ago, that was not the case."
Before it's here, it's on the Bloomberg Terminal.
LEARN MORE