Eight Investments That Are Better Than the Washington Post
by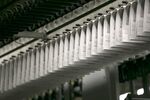 Jeff Bezos wouldn't have to do much looking to find a small company with a much healthier business than the august Washington Post newspaper.
Eight companies in the Russell 3,000 index with market values under $250 million have also posted profit margins of more than 50 percent in the past 12 months, according to an analysis of Bloomberg data. Bezos, for example, could easily snap up Macatawa Bank for about $100 million. Last year, the Michigan lender churned out $35 million in income, a 56 percent margin.
For a little more money—right around the amount Bezos paid for the Post—he could make a bid for Solar Senior Capital, a New York-based investment firm that buys the senior secured loans of troubled companies. Sounds boring, but the young outfit made almost $14 million last year on just $20 million in revenue.
Then there's Equal Energy, which is minting money as it pumps natural gas and oil out of an overlooked corner of Oklahoma, with a profit margin hovering around 54 percent. Other targets boast even better margins for a would-be investor who wants to make money: MPG Office Trust (153 percent margin), Whitehorse Finance (83%), First Financial Northwest (62%), Gladstone Investment(58%), and Pennantpark Floating Rate Capital (55%).
In comparison, the Washington Post newspaper publishing unit posted a $54 million operating loss last year, on $582 million in revenue. The thing is, obscure finance and fracking aren't fun, at least not compared with breaking news on national security issues and polishing a roomful of Pulitzers. And profit has never been important to Bezos, if his annual manifestos are any measure.
He wants to be the guy who bought the Washington Post. If he turns it around and squeezes some money out of it, he'll cement his reputation as a genius. If not, he's still the guy who bought the Post and graciously signs Bob Woodward's paychecks. Bezos has, at a minimum, bought himself almost 500,000 daily subscribers. Maybe he can sell them some groceries.
Before it's here, it's on the Bloomberg Terminal.
LEARN MORE