Damage Control for Foxconn and Fonterra in China
by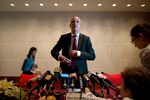 More reminders that these are dangerous times for foreign multinationals in China. Foxconn, the Taiwanese company that makes iPhones and iPads for Apple at Chinese factories, is trying to control the damage from an Aug. 1 report by the Institute of Public and Environmental Affairs, a nonprofit based in Beijing. The report said Hon Hai, Foxconn's parent, released water tainted with heavy metals from its factories in the Huangpu River in Shanghai. The government is now investigating Foxconn and another manufacturer, UniMicron Technology, according to a report by the official Xinhua News Agency that cited an official from the local department of China's environmental protection ministry.
Apple's partner says it has done nothing wrong, according to an e-mailed Foxconn statement today. The factory in the city of Kunshan, 400 miles upriver from Shanghai, meets environmental laws and regulations, the company says. Meanwhile, Apple says it has no patience for polluters. "We do not tolerate environmental violations of any kind," Kitty Potter, an Apple spokeswoman, told Bloomberg News, adding the company regularly audits suppliers "to make sure they are in compliance."
Still, even if the report were true, Foxconn would hardly be alone. China has major problems with water pollution. So why single out Foxconn? In part because fouling the river that flows through the center of the city and is a source of drinking water for residents is especially risky business for a multinational. After all, memories are still fresh of the thousands of floating pig carcasses back in March.
Moreover, this isn't a good time to be risking the wrath of Chinese regulators. Just ask GlaxoSmithKline executives. The drugmaker, which had $1.5 billion in China sales last year, is caught up in charges of corruption in the country. Last week, the company said its former China chief, who had left the country in June after authorities detained four colleagues, would head back to China "shortly" to assist in the bribery investigation.
Before targeting GSK and other drugmakers, Chinese regulators were taking aim at foreign companies that sell infant formula and other dairy products in the country. Chinese consumers don't trust local milk, following a series of safety scares dating back to 2008. As a result, demand for foreign brands has soared—and prices have gone up sharply. Last month, Abbott Laboratories, Danone, Nestlé, and Royal FrieslandCampina all agreed to lower prices after China's National Development and Reform Commission launched investigations about alleged profiteering.
That was just a prelude to moves against an even bigger target: Fonterra Cooperative Group, the cooperative that is New Zealand's largest milk producer and the world's top exporter. Fonterra announced on Aug. 3 that three batches of whey protein had been contaminated with a bacteria that could cause botulism—and the Chinese government quickly followed by halting imports of some milk powder from New Zealand. Russia announced it would stop imports of some milk powder, too.
The risk for Fonterra, and the New Zealand economy, is sizable: China accounted for about 14 percent of Fonterra's sales in the six months ended Jan. 31. The cooperative has been targeting the Chinese market for years, with Fonterra opening two dairy farms in the country and developing three more. By 2018, Fonterra plans on producing 1 billion liters of milk in the country a year. "It all starts with a safe, top-quality supply of fresh local milk," the cooperative explains on its website. "No matter where in the world our milk is produced, it must meet Fonterra's strict quality, safety and sustainability standards."
The timing of the ban is awkward for Fonterra's chief executive, Theo Spierings, who happened to be in the Chinese capital for a previously scheduled visit. Instead of helping to promote Fonterra's China ambitions, the visit today provided Spierings with a high-profile venue to attempt damage control. "We deeply apologize," he said. He also tried to keep the news in perspective, saying Fonterra already had 90 percent of the contaminated product and had recalled the rest. "We know where it is," he said. "So in 48 hours from now, the situation is to be fully controlled, with 100 percent control over all products, finished products, produced from this ingredient."
He did make one faux pas while apologizing. The Fonterra boss said, "Food safety and safety of the people of the Republic of China but also around the world is our first and foremost interest." (My emphasis added.) The official name of the country ruled from Beijing is the People's Republic of China. The Republic of China is the official name of Taiwan, and the leadership in Beijing has spent decades trying to prevent the Republic of China from gaining any recognition globally. By using the wrong name for China, Fonterra's CEO inadvertently stepped into that dispute.
Before it's here, it's on the Bloomberg Terminal.
LEARN MORE