pursuits
Why LeBron James Would Be a Fearsome Union Boss
The NBA's most valuable player would also be its most valuable negotiator
By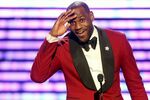 Both Fox Sports and ESPN reported earlier this week that LeBron James is mulling a run for the presidency of the NBA players union. James, according to anonymous sources, is hesitant to commit the time—yet he also harbors concerns about the strength of the union. If he takes the plunge, it would be a major boost for the National Basketball Players Association (NBPA), which has been led by lesser-known players for the past decade. The balance of power in the NBA has shifted since the days when Michael Jordan was making $3.25 million while driving hundreds of millions in revenue growth for the league, but marquee players are still vastly underpaid compared with what they could earn in an open labor market. And James, more than anybody, can make the case that players deserve more.
The current collective bargaining agreement between the NBA and its players sets an artificially low maximum on the pay of any single player and redirects that money toward the middle. So superstars such as James get stiffed because the union works to protect the interests of so-so players who make up the majority of its membership. James knows this. He also seems to understand that a rigged labor market can, at least in theory, help him in the long run by making more fans in more places feel as if their team has a chance, thereby adding to the overall pool of revenue to share. But James, along with many other players, gets cheated because owners exploit this competitive balance argument to hold down labor costs across the board.
As a leader of the underpaid brigade and the NBA's reigning rainmaker, James is uniquely positioned to push back against the owners' money grab when the two sides next negotiate, which could come as soon as 2017. He can say from experience that restricting owners' freedom to pay top players leaves them to make decisions based on such things as beaches and sponsorship opportunities—and that this has a backward effect on competitive balance, pushing the best talent to a handful of marquee markets. And he has the sway to tell the owners, as Jordan famously did in 1999: "If you can't make a profit, you should sell your team."
Before it's here, it's on the Bloomberg Terminal.
LEARN MORE