The Sale of AIG's Aircraft-Leasing Unit Remains Grounded
By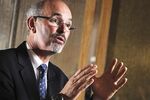 In the world of mergers and acquisitions, things turn awkward when buyers struggle with financing. So it's an exasperating time right now for American International Group, which has been trying to sell its airplane-leasing unit, International Lease Finance Corp., to a little-known Chinese consortium with apparent money issues.
The tortured road for the $4.23 billion deal—including a 10 percent deposit payment that arrived several days late last month—has raised questions as to whether the sale will ever be consummated. A June 14 closing deadline was moved and a revised deadline that had been set for Wednesday passed without closing—payment still hasn't been received, AIG officials said today in their quarterly earnings conference call. Under terms of the December 2012 deal for 80.1 percent of ILFC, the buyers—New China Trust Co., China Aviation Industrial Fund, and P3 Investments—would have an option to purchase an additional 9.9 percent stake, while AIG would retain a 10 percent share in the airplane-leasing business.
"We did not receive the money on time and so now both sides are working on how we move forward," AIG Chief Executive Robert Benmosche said today, emphasizing that the company aims to take ILFC public this year if the sale collapses. A communications agency that represents the buyers declined to comment Thursday night.
ILFC is one of the two major global airplane-leasing companies, with a fleet of about 1,000 planes and orders for more than 300 new ones. AIG bought the company for $1.2 billion in 1990 from co-founder Steven Udvar-Hazy and his partners, who started ILFC in 1973 and turned it into a pioneer of aircraft leasing. The other large player in the market is GE Capital Aviation Services, which has nearly 1,700 airplanes.
AIG began trying to divest the unit in 2010 to help simplify its balance sheet and free up capital. (On Aug. 1, AIG announced a 10¢-per-share dividend and said the payment would occur "without assuming" ILFC's sale.) "This is about simplifying AIG, having a company that is manageable, in my opinion, and is around insurance and not how to begin to get extra yield on some of the investments we could make as a company, leveraging what used to be the triple-A of AIG," Benmosche said of the ILFC sale last month at an investor conference.
If the deal collapses, AIG will spin off the Los Angeles-based lessor with an initial public stock offering—given a dearth of bidders for the company, which operates in a complex industry and carries more than $24 billion debt on its books. AIG updated a registration statement for an ILFC IPO in June, reviving a plan that had been shelved in December, when the sale to the Chinese group was announced.
"The problem with ILFC is because it's so big a bank, or most traditional lenders or lessors don't want to take it on their balance sheet," says Charles Sebaski, an analyst with BMO Capital Markets in Toronto. "One of the most valuable things is some of the [manufacturer] line positions for new aircraft that ILFC has. The question has been: What's the real value of some of the older legacy aircraft in the portfolio?"
Those airplanes, which burn more fuel than new models do, are seen as a lag to the company's financial performance, given airlines' enthusiasm for more fuel-efficient planes. "At the older end of this portfolio, it's kind of a deteriorating asset base," Sebaski said.