Overhauled Chevys Close the Pickup Gap With Ford
by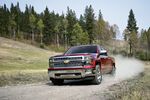 The world of pickup truck buyers is pretty binary: You like either Ford or Chevy. For decades, the two have been duking it out on torque, horsepower, and any other brawny measurements they could come up with. How overheated is the debate? Just pull up Youtube and search 'Ford vs. Chevy truck pull.'
That rivalry is ultimately, of course, settled at the dealership, where sales determine who's really winning.
For more than a year, Ford has been the champion with its best-selling F-series lineup. But the updated Chevy Silverados and GMC Sierras (both made by General Motors) started hitting lots last month and closed the gap. It was the company's first overhaul of the trucks in seven years.
Here's a breakdown of the pickup market this year through July:
Ford F-Series: 427,935 (+22.1%)
GM/Chevy: 388,881 (+26.5%)
Chrysler/Dodge: 201,633 (+24%)
Toyota: 156,455 (+17.8%)
Last month Chevy continued to trail Ford in pickup sales, but it posted gains of almost 50 percent, compared with a 23 percent increase at its rival. In other words, GM is poised to retake the king-of-the-hill truck title in August and make a run at winning the category for the year. Critics are lauding the new GM trucks, which have more opulent cabs and more fuel-efficient engines. Ford isn't redesigning its trucks until next year.
Executives at both companies have recently torqued up some talking points.
Here's Kenneth Czubay, Ford's vice president for U.S. sales and marketing, on a call with investors yesterday:
"When people in America want to buy a truck, they buy a Ford truck."
(Czubay apparently overlooked the almost 60,000 Americans who bought GM pickups in July.)
Here's Don Johnson, Chevrolet's vice president of U.S. sales and service:
"Clearly there's a lot of customers coming in right now being driven in by our great new pickup trucks, so I think we're probably just getting a lot more traffic than our competitors in the last month or so."
Traffic, maybe. Sales, no.
With a burgeoning homebuilding industry and a frantic search for U.S. oil and gas, any company making pickups is selling into a market with quite a bit of momentum. Truck sales have grown two to three times faster than passenger car sales this year. And despite the huge boost in truck buying, roughly half the country's 30 million or so pickups are still more than 11 years old, according to Ford. Game on.
Before it's here, it's on the Bloomberg Terminal.
LEARN MORE