July Jobs Report Is Packed With Bad News
by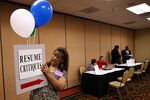 Just when it looked like the U.S. was picking up steam heading into the second half of the year, the economy goes and lays an egg of a jobs report. The U.S. added just 162,000 jobs in July, the Bureau of Labor Statistics reported today. That's not terrible, but it's less than the 185,000 consensus forecast of 70 economists polled by Bloomberg, and far below the most optimistic forecasts of a 225,000 number. The unemployment rate ticked down to 7.4 percent, from 7.6 percent—but the decline is mostly due to fewer people in the workforce.
The July report is actually packed with fairly cruddy news. The previous two months' job gains were revised down by a total of 26,000 jobs. Wages fell. The workweek got shorter for just about everyone. And the labor force participation rate declined. Not exactly going in the right direction.
The report dampens what had been a week of reasonably good economic data: On Thursday we got the strongest reading of manufacturing activity in two years. And a strong ADP report showed the private sector added 200,000 jobs in July. Claims for jobless benefits are also at their lowest level since January 2008; consumers are more confident than they've been since early 2008.
And yet, all the fundamentals showed little to no change in July's BLS report. The number of long-term unemployed was flat at 4.2 million. There are still 988,000 discouraged workers out there—these are people not currently looking for a job because they don't think they can find one. That's up from 852,000 a year earlier. The number of people working part time for economic reasons bounced up by 19,000.
Even more bad news: Earnings fell, breaking a fairly steady rise in wages over the past year. In July, average hourly earnings fell by 2 cents to $23.98. Through June they'd risen by about 50 cents over the previous 12 months. That's now down to 44 cents. Over the last four economic recoveries going back to 1982, wages have remained flat until the fourth year of growth when they finally began to rise. The hope among more bullish economists was that wages would sustain their recent gains and add fuel to the discussion over whether inflation risks are starting to appear.
There are a few bright spots: The total unemployed number, which includes people who aren't looking for work (the regular unemployment rate doesn't), fell from 14.3 percent to 14 percent. Government job losses finally stopped—1,000 positions were added overall. The federal government still lost 2,000 jobs, mostly due to cuts in the U.S. Postal Service workforce. But local governments added 6,000 jobs.
The biggest job gains, of 33,000, came from food services and bars. Good news for waitresses and bartenders, but not exactly the pillars of a robust job market.
A stronger report would've added more pressure on Federal Reserve Chairman Ben Bernanke to announce a definitive tapering plan at the Federal Open Market Committee meeting on Sept. 18. That's not to say that he won't, but this might buy him some wiggle room.
Before it's here, it's on the Bloomberg Terminal.
LEARN MORE