Dell Is Said to Be Near Buyout Deal With Special Dividend
Jeffrey McCracken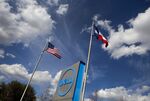 Michael Dell and Silver Lake Management LLC are in talks to sweeten their $13.75 buyout offer for Dell Inc. by adding a special dividend of 13 cents a share in exchange for a change of voting rules, said a person familiar with the matter.
The two sides are nearing a deal, which would also change the record date for shareholders to vote, said the person, who asked not to be named because the deliberations are private. An agreement may be announced as early as today, although the negotiations could still collapse, the person said.
The offer would replace a bid of $13.65 a share for the personal-computer maker, which shareholders are scheduled to vote on today at Dell's headquarters in Round Rock, Texas. If the buyout group and Dell's special committee agree on the new proposal, a vote would be delayed until Sept. 12, the person said. At that time, investors holding the shares as of Aug. 13 could vote and abstentions would no longer count as no votes, making it easier for Michael Dell to get the buyout approved.
The shareholder vote had already been delayed twice after Michael Dell couldn't muster enough support for the deal. With the new proposal, shareholders also would be guaranteed to receive an 8-cent dividend next quarter, the person said, which is in line with previous periods. Dell shares rose as much as 5.2 percent to $13.64 in early trading.
David Frink, a spokesman for Dell, declined to comment on any new terms. He said the company will hold its meeting at 9 a.m. in Texas today. A representative at Silver Lake also declined to comment.
Transformative Deal
Dell and Silver Lake have been embroiled in a monthslong fight with billionaire Carl Icahn and other dissident shareholders who have argued the founder is trying to buy his company on the cheap. By taking the PC maker he started in 1984 private, founder Dell is seeking to transform it into a bigger provider of hardware, software and services for corporate-data centers, after years of ebbing sales and profit as consumers shift away from PCs toward computing on smartphones and tablets.
Icahn and fellow Dell investor Southeastern Asset Management Inc. have made a series of alternative proposals to derail a takeover by Chief Executive Officer Dell, including a $14-a-share buyback. Yesterday, Icahn filed suit to block Dell from changing procedures for voting on the deal, accusing the founder of trying to "ram through" the buyout.
Icahn didn't immediately respond to a request for comment, nor did a representative for Southeastern.
Stock Performance
Dell shares have been trading below the original $13.65 offer price since April, signaling investors weren't confident about the buyout group's ability to get the deal done, nor in alternatives proposed by Icahn and Southeastern. Since announcing the buyout Feb. 5, the company's special committee has argued that the company's prospects of a turnaround are better outside of the public lens.
Once the world's top supplier of PCs, Dell has spent billions of dollars on acquisitions over the past five years to add enterprise computing hardware, software and services, though the deals have yielded little return for investors. Meanwhile, the company has ceded the fast-growing mobile-computing market to Apple Inc. and devices running Google Inc.'s Android operating system.
Before it's here, it's on the Bloomberg Terminal.
LEARN MORE