Congress Heads Out for a Not-So-Well-Deserved Vacation
By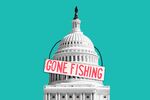 Congress's summer vacation starts today, closing out a feisty week. A couple of highlights: The budget standoff got worse, the House focused on a series of going-nowhere bills meant to score political points, and Senate Majority Leader Harry Reid told his colleagues to "sit down and shut up."
Last year by this time, lawmakers had sent 54 bills to the president for his signature—half of which either renamed things like post offices or were equally small-bore. That made the first half of 2012 one of the least productive sessions on record. So how did Congress stack up during the first half of this year, compared to last?
Even worse. As of yesterday, the House and Senate had passed just 26 bills for President Obama to sign into law. Once again, most of the legislation is small potatoes. There are a couple of tweaks to existing laws, and a handful of bills that merely renew existing laws. A Coast Guard building got renamed, as did a Missouri bridge and a New Hampshire air-traffic control facility. Also, by law the National Baseball Hall of Fame in Cooperstown, N.Y., can print special coins for its 75th anniversary. Whew, exhausting. No wonder they need five weeks off.
Before it's here, it's on the Bloomberg Terminal.
LEARN MORE