Buying Prescription Drugs Online Without Getting Burned
Kyle O'Donnell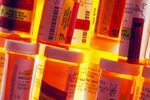 Most thrifty Americans who fill prescriptions from pharmacies outside the U.S. are unaware of the Federal Food, Drug and Cosmetic Act, a law that prohibits their importation without Food and Drug Administration approval. Maine residents might be more cognizant of the prohibition because of a recently passed state law that goes into effect in October permitting them to order drugs from Canada and a handful of other countries.
Carmen Catizone, executive director for the National Association of Boards of Pharmacy, which opposed the legislation, describes the bill's passage in Maine as "the same situation as states passing medical marijuana laws in direct violation of federal laws." State Senator Anne Haskell, a Democrat who voted in favor of the law, acknowledges its legality "is a question that isn't solved until someone takes it to court," but says the federal government hasn't signaled it will try to stop Mainers.
Lois Baxter, a Maine Department of Health and Human Services retiree who testified in favor of the Maine law, isn't sweating the politics. She says her acid-reflux prescription will cost her insurer significantly less when she buys it from a Canadian pharmacy: about $220 for a 90-day supply instead of the more than $800 she sees on the bill now. Her $45 co-pay will also be eliminated.
Baxter isn't paying much attention to warnings from the law's opponents about counterfeiting and other perils. Shoppers risk their health when they buy from pharmacies they don't know, says Mark Turnage, CEO of Denver-headquartered OpSec, which sells anti-counterfeiting services to over 300 brands and 50 governments. About 10 percent of pharmaceuticals are counterfeit, he says, and that number rises when they're sold online.
For skittish shoppers, sites like LegitScript and PharmacyChecker.com have built businesses around verifying the legitimacy of online pharmacies. LegitScript, founded in 2007 by John Horton, a former associate deputy at the Office of National Drug Control Policy, is one of the pioneers. The Portland, Oregon, company, which employs about 30 people, has certified more than 250 online pharmacies as being safe for buyers in the U.S.
The verification program is free for pharmacies and shoppers can browse LegitScript for free. To make money, it works with giants such as Google, Microsoft, and Yahoo, to check the legitimacy of pharmacies advertising through them, as well as providing similar services for domain registrars like Go Daddy. LegitScript's work has led to the shutdown of 40,000 rogue pharmacies, according to Horton.
Unlike LegitScript, which doesn't verify overseas pharmacies for the U.S. market, competitor White Plains, N.Y.-based PharmacyChecker does. Founded in 2003 by Tod Cooperman, a doctor who worked for Bristol-Myers Squibb and other pharmaceutical companies before going into business for himself, the site now attracts between 8,000 and 9,000 unique visitors a day who use its drug price comparisons and customer reviews.
More than 130 pharmacies and online drug sellers around the world participate in PharmacyChecker's verification program, which costs them $110 a month, plus a one-time $367 processing fee, according to Gabriel Levitt, PharmacyChecker's vice president. The seven-employee company also charges for its onsite inspections of pharmacies. PharmacyChecker is free for individuals shopping for drugs.
LegitScript and PharmacyChecker have squabbled in the past, lobbing negative posts about backgrounds and business practices. They also disagree about Maine's new law. Horton calls it "a response to a real issue," but worries Mainers might get counterfeit drugs when they bargain-shop online. "That's not what the legislators of Maine intended," Horton says.
Levitt thinks the new legislation is a step in the right direction for consumers. Some overseas pharmacies may be encouraged by the new law to pursue the U.S. market, he says. He hopes other states follow Maine's lead. "We think that it sends the right signal," Levitt says.
Before it's here, it's on the Bloomberg Terminal.
LEARN MORE