Blockbusters Are Flopping. The 'Avatar' Franchise Is Expanding
By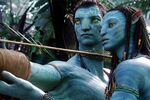 Director James Cameron and 20th Century Fox announced new plans Thursday to expand on the 2009 hit movie Avatar. Rather than simply make two sequels, as previously planned, Cameron and company revealed that they are now making three additional Avatar movies, which will be produced simultaneously beginning next year and are scheduled to hit theaters in December 2016, December 2017, and December 2018.
To date, Avatar remains the all-time champion of both the domestic movie market (where it grossed $760 million) and the foreign one ($2 billion), according to Box Office Mojo. So on one level, it's not a surprise that Cameron and 20th Century Fox would want to invest even more in their magical, blue-hued, 3D money machine.
That said, yesterday's announcement came at a time of unprecedented blockbuster carnage. This summer has seen an unusually high number of movies with production budgets topping $150 million that have flopped at the box office. "Industry insiders are referring to this season as 'the summer of doom'—an overcrowded huddle of big-budget spectaculars, without the audience to sustain them," reports the Guardian. "[T]he studios are smarting from such high-profile casualties as The Lone Ranger, After Earth and the supernatural action-thriller R.I.P.D."
"It's a crisis of Hollywood's own making: Studios are releasing double the number of pricey movies they usually do during the summer, pushing the boundaries of how much the marketplace can expand," notes the Hollywood Reporter. "Amid the carnage, insiders question why studios are greenlighting so many films that cost more than $150 million to produce when so few have risen above the clutter."
So why, amid sudden existential questions about the future viability of the big-budget blockbuster, is 20th Century Fox expanding from an Avatar trilogy to an Avatar quadrilogy?
The answer, in part, is that one subset of the big-budget action-adventure genre is still going strong—namely, sequels. This summer while so-called "originals" (which, for the most part, felt more formulaic than original) like R.I.P.D., White House Down, and After Dark have struggled, a number of sequels, including Iron Man 3 ($407 million domestic; $803 million foreign), Star Trek Into Darkness ($225 million domestic; $224 million foreign), and Fast & Furious 6 ($237 million domestic; $503 million foreign), have piled up hefty box-office numbers at home and abroad.
"The common thread between pretty much all these movies that haven't done well is that they're all originals, not franchises," says Paul Dergarabedian of Hollywood.com. "Audiences may feel more comfortable spending their money on something they already know," he adds. "They are not sick of sequels. To me, that's a complete myth."
The logical takeaway for studio executives?
Rethink how you go about making and marketing those $150 million, unproven originals. And in the meantime …
More sequels!
More Avatars!
More Na'vi!
Before it's here, it's on the Bloomberg Terminal.
LEARN MORE