A Soap Opera at Israel's Central Bank
By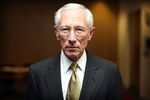 When it comes to picking a new central bank chief, Israel has the U.S. beat by a mile in the drama department. The latest development came today when Leonardo Leiderman dropped out without explanation—shortly after an Israeli television station said he regularly consulted with an astrologer.
Skeptics might say that astrology is as reliable a guide to the future as macroeconomics. But that's not how sober central bankers are supposed to view things.
Israel's central bank soap opera began after the highly respected Stanley Fischer, 69, announced his early retirement as governor of the Bank of Israel. Fischer is a giant in the field: At MIT, his graduate students included Ben Bernanke and Mario Draghi.
First up to succeed Fischer was Jacob Frenkel, 70, who held the job before Fischer. He withdrew after Haaretz newspaper reported that he was detained in Hong Kong seven years ago after allegedly leaving an airport shop with an item he hadn't paid for. Although Frenkel said it was a misunderstanding that had been clarified, he said he no longer wanted the job after being subjected to an "avalanche of abuse."
Then Prime Minister Benjamin Netanyahu turned to Leiderman, 62, who is head of the economics department at Bank Hapoalim. Yesterday, Channel 10 reported that he regularly consulted an astrologer. Today, a text message from the prime minister's office said Leiderman was removing his name from contention. The text made no mention of signs of the zodiac or any other reason for his withdrawal.
Karnit Flug, the acting governor, would have been a natural candidate for the post. But she resigned after Netanyahu picked Leiderman over her.
"Netanyahu and [Finance Minister Yair] Lapid should go to the home of Dr. Karnit Flug to apologize and beg her to take on the job," Labor party leader Shelly Yachimovich said, according to Haaretz. "A bunch of bad and bizarre decisions that Netanyahu and Lapid took just so as not to appoint a woman more suited for the position is starting to look like one big farce."
Before it's here, it's on the Bloomberg Terminal.
LEARN MORE