Yeah, Bi#@h!—Warren Buffett Loves 'Breaking Bad'
by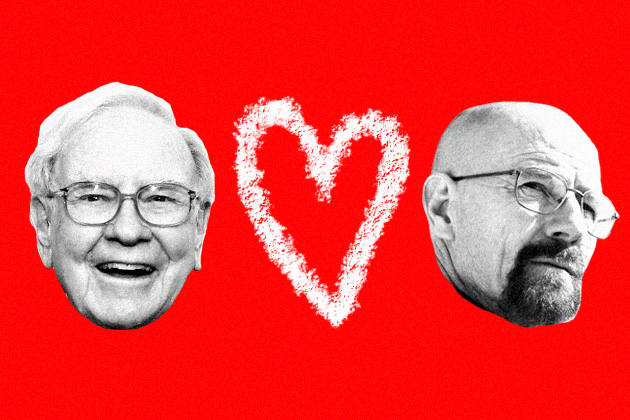 It turns out that Warren Buffett has a soft spot for TV's shadiest entrepreneur: Walter White, the Albuquerque meth kingpin on AMC's Breaking Bad, which begins its final season on August 11.
Earlier this year, Buffett filmed a comedy segment for Berkshire Hathaway investor's conference on location at the show's New Mexico-based set. And last night, he attended a party for the season 6 premiere at New York's Lincoln Center, where he mugged for the camera with Aaron Paul, who plays White's inveterate sidekick. "This is my No. 1 show, by far," Buffett told Buzzfeed. "[Walter White] is a great businessman. … He's my guy if I ever have to go toe-to-toe with anyone."
But as Bloomberg Businessweek observes in this week's issue, Mr. White is hardly a role model executive. The former chemistry teacher lacks several crucial traits for running a successful business, including humility and self-awareness. And it should go without saying that a CEO shouldn't ask his or her employees to commit murder.
"You asked me if I was in the meth business or the money business," White says to Jesse after closing an important drug deal. "Neither. I'm in the empire business." As an executive who oversees more than 250,000 employees and has an estimated net worth of $59.3 billion, Mr. Buffett can surely relate to that. Or perhaps he just has better taste in television than he does in soft drinks.
Before it's here, it's on the Bloomberg Terminal.
LEARN MORE