Why China May Finally Fill With iPhones
by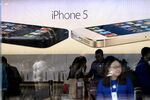 Apple Chief Executive Officer Tim Cook was in Beijing this week for meetings with Chinese telecom executives, including a visit with the top brass at China Mobile, the world's largest cellular operator. For years, Apple has chased a deal to sell iPhones to China Mobile subscribers, and for years the latter company has resisted. Unlike its counterparts in other countries, China Mobile had so dominated its home market that it could afford to say no to the folks in Cupertino.
Now, however, China Mobile is facing challenges that make a deal seem more attractive. While it boasts 740 million subscribers—far more than its two other state-owned rivals, China Unicom and China Telecom—it's had trouble moving them into more lucrative 3G services. Only 19 percent of those customers, or 138 million, were 3G subscribers, data compiled by Bloomberg Industries show. For China Unicom and China Mobile, the ratio looks much better: 38 percent of Unicom's subscribers (100 million) use 3G, as do fully half of China Telecom's 174.5 million customers.
While China Mobile has been making some progress improving its 3G network, it's also facing a new competitor in Internet heavyweight Tencent, which operates the popular instant messaging service QQ. That service's ubiquity has allowed Tencent to become a leader in other businesses, such as online gaming, and its hugely popular mobile voice and text messaging app WeChat has enabled it to start moving in on China Mobile's territory.
WeChat, a program comparable to WhatsApp Messenger, has 400 million users, who can communicate with one another for free, cutting off an important revenue stream for China Mobile. Speaking at a shareholders meeting in May, China Mobile Chairman Xi Guohua called the challenge from WeChat "quite severe."
China Mobile has tried to fight back. Earlier this year the carrier helped lead a campaign aimed at forcing Tencent to charge WeChat users. China Mobile "accused Tencent of hogging its network and stealing its text message business," Chen Yongdong, an associate professor in new media at the Shanghai Theatre Academy, wrote yesterday in the Global Times, a tabloid affiliated with the state newspaper People's Daily. "The telecom operator even tried to use its government connections to force Tencent to charge a fee to WeChat users."
The Chinese government resisted pressure to crack down on Tencent, and now China Unicom is teaming with the company to offer a joint SIM card that provides discounts on Unicom services to WeChat users. That deal is a pilot program, applying only to Unicom's subsidiary in the southern province of Guangdong so far, but if it works, China Mobile may be up against a powerful new alliance throughout the country. Unicom "has taken a better approach by working with Tencent," Chen wrote. "This kind of win-win strategy is what state-owned telecom operators should follow in a true market economy."
Focused on expanding its number of new 3G subscribers (which tripled in the first half of the year), China Mobile "has really ramped up its 3G network recently," says Praveen Menon, an analyst in Hong Kong with Bloomberg Industries. The company has also benefited from the greater availability of handsets priced from $300 to $400. "As long as the cheaper phones are available, they can still stay competitive," Menon says. Still, with rivals joining forces, China Mobile could use the boost provided by an alliance with Apple.
One hurdle in the way of a partnership may soon disappear. China Mobile uses a homegrown 3G standard called TD-SCDMA, a government effort to develop a local technology, which has failed to catch on elsewhere—leaving China Mobile without development support. China's government isn't repeating that mistake with 4G networks, though, so once the company has permission to begin upgrading its networks, a deal with Apple will be much easier. (Premier Li Keqiang told the State Council that licenses will be issued by yearend, Xinhua News Agency reported last month.) And an iPhone from China Mobile "would be a great launchpad" for the company's 4G products, says Menon.
For Apple, it's still a no-brainer. The iPhone is losing share in China, falling behind archrival Samsung as well as local brands such as Lenovo (992:HK), Huawei, and ZTE. Teaming up with the country's largest operator would help Apple sell a lot more iPhones. "This is the deal, when it goes down, that will be heard around the world," Topeka Capital Markets analyst Brian White told Bloomberg TV yesterday.
Before it's here, it's on the Bloomberg Terminal.
LEARN MORE