U.S. News Lets Wisconsin B-School Keep Ranking After It Misreported Data
Louis Lavelle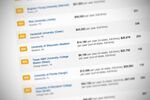 The business school at the University of Wisconsin, Madison, submitted inaccurate rankings data to U.S. News & World Report that made it appear more selective than it was, but it won't cost the school its ranking, the magazine says.
In a blog post, the magazine's director of data research, Robert Morse, said the magnitude of the error "wasn't significant enough to affect the school's numerical rank." Wisconsin's full-time MBA program was No. 34 in the magazine's most recent business school ranking, published in March.
The first hint that something was wrong came in May, when U.S. News published a list of the "10 most popular B-schools," based on self-reported acceptance data from the schools. Wisconsin was at the top of the list, above Harvard Business School and Stanford Graduate School of Business, but was quickly removed after Wisconsin notified the magazine that it had misreported the data used to compile the list.
On Wednesday, more details emerged in Morse's blog post. The school originally reported that it had accepted 104 applicants for the fall 2012 entering MBA class, giving it an acceptance rate, or selectivity, of 24 percent, as calculated by U.S. News. That would put it on par with much higher-ranked schools. The correct number is actually 144 acceptances, the magazine says, putting its correct acceptance rate at 33 percent.
The U.S. News methodology gives the acceptance rate a total weight of 1.25 percent, so even a large change has little impact.  Last year, Wisconsin was ranked No. 34 by Bloomberg Businessweek as well.  Acceptance rates are not a factor in Businessweek's ranking methodology for full-time MBA programs.
In a statement, the school's chief communication officer, Meloney Linder, said the misreported data was the result of an oversight in the audit process used to check the data. As a result of the error, she said, "additional levels of reviews" are now required.
Wisconsin joins a growing list of schools that have misreported rankings data to U.S. News. George Washington University lost its U.S. News college ranking in November after it was found to have inflated the number of incoming students graduating near the top of their high school class.  In January, Tulane's Freeman School of Business lost its U.S. News B-school ranking after disclosing that it had reported inflated GMAT scores and application figures. Other schools that misreported data—including Claremont McKenna College, which misreported SAT scores for six years, and Emory University, which said it intentionally misreported test scores and class rank for more than a decade—have not been stripped of their rankings.
Join the discussion on the Bloomberg Businessweek Business School Forum, visit us on Facebook, and follow @BWbschools on Twitter.
Before it's here, it's on the Bloomberg Terminal.
LEARN MORE