The Sharing Economy Organizes to Keep Regulators at Bay
By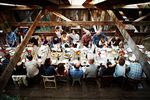 Expanding the so-called sharing economy has been a tricky business. When just a few people rent out their spare bedrooms or charge fellow commuters for lifts to work, they're unlikely to attract scrutiny from regulators, even if they technically break the law. The more widely as activity spreads, the more attention government will pay. By last year, Airbnb listed one rental for about every six hotel rooms in New York City, and some hosts have predictably landed in trouble.
A new nonprofit wants to channel the collective voice of Airbnb hosts, RelayRides drivers, TaskRabbits, and the like. Peers, which was announced July 31, hopes to spread the sharing business and protect it from regulation. It's not representing the companies, but rather their individual users, says Executive Director Natalie Foster, who previously co-founded progressive advocacy group Rebuild the Dream and worked for Barack Obama's presidential campaign. "Peers is an organization of, by, and for the participants in the sharing economy," she told reporters on a conference call.
That doesn't mean the companies aren't involved. Nearly two dozen of them have signed up as "partners" to market Peers to their users. Foster says Peers doesn't get money from the sharing businesses, though. Funding comes from members, foundations, and sympathetic individuals, but for now the group won't say who the donors are. And while Foster says Peers will advocate for "smart regulation," the goal is to help members organize themselves. "We're not a lobbying organization," she says.
Fans of sharing services talk idealistically of how people make meaningful human connections while meeting Airbnb travelers or rideshare passengers. Sharing lets communities become more self-reliant and reduce consumption and waste, they say. "Despite cultural and economic differences, the common motivation that people talk about for using sharing economy services is empowerment," says Rachel Botsman, author of What's Mine Is Yours: How Collaborative Consumption Is Changing the Way We Live, who was also on the call.
That may be true. But as I wrote last week about EatWith, a company that helps cooks turn their homes into restaurants, sharing is a bit of a misnomer when money's changing hands and people are selling services or renting assets. Outside of the TED-talk circuit, that's called commerce.
The existing laws, written largely for commerce involving businesses, may not be appropriate for the peer-to-peer transactions that sharing marketplaces make happen. Squaring the new ways many people do business with the old regulations is a process that will play out over the next few years, city by city.
Keeping an arms' length from sharing marketplace companies may make Peers members more effective advocates for their cause. The family renting out a guest room on Airbnb is a far more sympathetic voice than the company itself, which was reportedly valued at $2.5 billion in October. Entrepreneurs and venture capitalists are rushing to be the next Airbnb for fill-in-the-blank. (Boats? Parking spaces? Dogs?) Sharing, it seems, is becoming a big business. And no one has more at stake in keeping regulation manageable than the companies that broker transactions between peers.
Before it's here, it's on the Bloomberg Terminal.
LEARN MORE