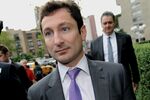 Update, 4:20pm: Updated the first and last paragraphs to reflect the verdict in the case.
After two days of deliberations, jurors in downtown Manhattan found a Goldman Sachs banker liable in one of the highest-profile cases to arise from the financial crisis. They found former Goldman VP Fabrice Tourre liable on six of the seven claims of misleading investors in a $1 billion bubble-era mortgage security. It's a huge victory for the Securities and Exchange Commission, which brought the case, and in a way it also marks a success for the presiding judge, Katherine Forrest, who fought hard to ensure the jurors would understand the complexities of the charges.
Tall and alert, Forrest is a powerful presence in the courtroom, at once thoughtful and decisive in how she rules on a range of matters, from objections to procedural questions. Forrest made clear that she personally reviews prior cases the attorneys on both sides cite as precedent, and she's made valiant efforts to get the lawyers to talk in layman's terms about the securities in question. That's no easy task in a case that, by the very nature of the charges, is drowning in wonky details. Her jury-focused view spanned the whole trial, from the first day, when she pleaded with the attorneys to "be gentle" with their terminology, to the final day of testimony, when Forrest bought the jury two dozen doughnuts. In their thank-you note to the judge, the jury members wrote "You are awesome" and added a smiley face.
As Bloomberg News reported earlier this year, Forrest, 49, has quite the backstory. Her family was poor when she grew up, even homeless for a period. And as a new lawyer at just 26, Forrest fought and won legal custody of her 13-year-old sister when their parents couldn't care for her. Forrest worked her way up to become a partner at the white-shoe law firm Cravath, Swaine & Moore, where she stayed on until 2010. She then joined the antitrust division of the Department of Justice. A year later, President Obama nominated her to be a judge in the Southern District of New York, one of the most prominent federal courts in the country.
On the bench for just two years, Forrest has already made her mark in other high-profile cases. She drew attention last year when she barred the government from indefinitely detaining terrorism suspects without bringing the cases to trial. The fact that the jurors in Tourre's case felt there was enough evidence to find Tourre liable means they were confident in their understanding of the claims. For that, they can thank Forrest.
Before it's here, it's on the Bloomberg Terminal.
LEARN MORE