Tech Deals
The Incredible Vanishing CEO of Fossil Watches
by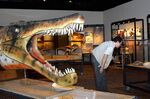 The Internet never forgets, but those who are careful can make sure it never finds out in the first place. Just try finding a photo of Kosta Kartsotis, the CEO of Fossil Group.
The elusive chief executive is tied for the top spot on Bloomberg Rankings' list of the lowest-paid CEOs whose companies have the best-performing stocks. Kartsotis, one of the first investors in the Texas-based watchmaker, also happens to have an unorthodox policy in place at his company: Staffers are forbidden from distributing photos of the CEO to the public.
An outside spokeswoman for Fossil declined to provide a head shot, citing company policy. Bloomberg was unable to locate an archived photo of Kartsotis.
Needless to say, this was unusual. How the CEO of a company worth $6.4 billion can manage to keep his photos shielded from public view shows that even in an era of Facebook and Twitter, it's possible to exert some control over your online persona with a great deal of effort.
Kartsotis joined Fossil in 1988 and has served as CEO since 2000. The company's website does not appear to list an official bio for him. Kartsotis doesn't take an annual salary or stock compensation, but as the biggest individual owner of Fossil shares, his holdings in the company are worth $716 million, according to a regulatory document. Fossil's stock was up 21 percent this year as of the end of last week.
Tom Kartsotis, the CEO's brother who founded the company, is similarly camera-shy. Among the head shots posted on the website of Simon Equity Partners, an investment firm where he is on the board of advisors, next to his name is a picture of Fred Flintstone.
Before it's here, it's on the Bloomberg Terminal.
LEARN MORE