The Health Risks for Overseas Female Domestic Workers
by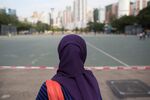 Exporting people is a growth industry in Asia. For decades, young women from the Philippines have flocked to more affluent parts of Asia as well as countries in the Middle East and elsewhere to be domestic workers. Indonesia has become a major source of workers, too.
And now more women from other developing countries are going abroad looking for work as caregivers, cooks, and housekeepers. Bangladesh, India, and Sri Lanka are becoming bigger sources of overseas workers, says Dr. Rahul Malhotra, an assistant professor at Duke-NUS Medical School in Singapore, and with Myanmar finally opening to the world after a long period of isolation, that country "is increasingly coming on board" as a supplier of domestic workers. Women from African countries such as Ethiopia, Senegal, Morocco, and Sudan are also going abroad in larger numbers to care for other people's families, he says.
Malhotra is a co-author of a new report looking at health and work conditions for female domestic workers. He and research partner Truls Ostbye, a professor of community and family medicine, nursing, and global health at Duke's Global Health Institute, examined the work done by researchers over the past 22 years. The pair looked at 32 published reports about migrant workers from Southeast and South Asia and found that women suffer from "abuse, illness, mental health problems, and limited access to medical care," according to a  statement issued by Duke on July 31.
Given the dangers many of these women face, Malhotra says researchers have difficulty obtaining information about their health. "There is research on foreign domestic workers, but most of it is focused on the human rights aspects or the family and the children left behind," he explains.
One reason for the scarcity of data might be the special nature of the workplace. Getting the women or their employers to allow researchers to go into the household and ask questions isn't easy. "This is a group that is hard to study, because they are employed within the house of the employer," says Malhotra. "If you knock on the door, employers say no, they don't want their domestic worker to be interviewed."
Recognizing how vulnerable these women are, governments in both the home and host countries are taking steps to regulate the domestic worker industry better. The Philippines and Indonesia have mandated minimum wages for women going abroad, he says, and put restrictions on the employment agencies that many women use to find jobs in foreign countries.
Even when governments have taken action to protect domestic workers, many remain victims of illegal moneylenders who see young and poor women as easy targets. In Hong Kong, for instance, the government requires employers to pay domestic workers a minimum wage and provide them with one day off every week. Hong Kong also limits the amount employment agencies can charge domestic workers for helping them find jobs: 10 percent of one month's salary.
Still, thousands of indebted domestic workers from the Philippines and Indonesia hand over almost all their monthly pay to loan companies and agencies that helped get them to the city. "It is definitely indentured servitude, modern-day slavery," Holly Allan, founder of Helpers for Domestic Helpers, a nonprofit to help the more than 300,000 domestic workers in the city, told Bloomberg News last November. "There are tens of thousands of them, not only working for no salary, but with no rest days. Each and every one believes it's a normal thing. We have several clients who have worked for three years and never made any money."
Before it's here, it's on the Bloomberg Terminal.
LEARN MORE