Student Loan Deal in Congress May Spell Trouble for Alumni Lenders
by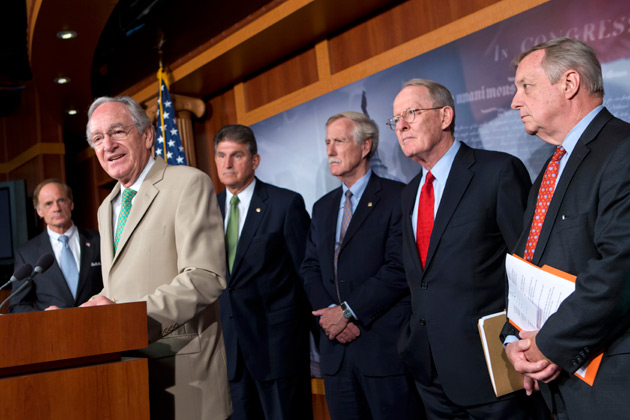 Updates with details of July 31 House vote on student loan compromise bill and clarifies proposed student loan rate.
New student loan interest rates that won Congressional approval Wednesday may soon undercut those on alumni-sourced loans—a lending concept that has gained popularity among MBAs at Harvard, Stanford, Northwestern, and the University of Pennsylvania.
If the changes are approved by President Barack Obama, who supports the Bill, B-school students would likely save money by exhausting graduate Stafford loans before turning to alumni-sourced options.
The Senate passed a student loan compromise last week that ties interest rates to yields on 10-year Treasury notes. Under the proposal, graduate students taking out federal Stafford or PLUS loans in the coming school year would pay rates of 5.41 percent and 6.41 percent, respectively, down from 6.8 percent and 7.9 percent.
The proposed Stafford rate would beat some of those offered by San Francisco-based Social Finance (SoFi) and Brooklyn's CommonBond—startups that issue loans by raising money from a school's alumni. Such lenders focus on MBAs at selective schools where students are less likely to default. They advertise returns to loan pool investors that beat those on money market savings accounts, with the added perk of helping students at the investors' alma maters.
Proposed federal rate changes "certainly present challenges for us on in-school lending," says SoFi's chief executive, Mike Cagney.  He adds that the company has pulled back on plans to expand in the undergrad market, where the federal Stafford rate may drop to 3.86 percent from 6.8 percent.
The proposed rate changes would not affect SoFi's primary clientele, which are MBA graduates looking to refinance. Cagney says refinanced loans account for 90 percent of the company's lending activity, and he expects that to rise to 95 percent. At CommonBond, the figure is 70 percent. The market likely presents the greatest immediate growth opportunity for such lenders.
"There are limited refinancing options out there right now," says Scott Valentin, an analyst covering Sallie Mae for FBR Capital Markets. Valentin cites one private consolidation product offered by First Marblehead and SunTrust Banks, where the advertised fixed rate ranges from 7 percent to 10.25 percent, compared with SoFi's 5.74 percent.
On new loans, Valentin predicts that the alumni lenders can't lower their rates too sharply without eating into the return promised to investors and risking defections. "What it comes down to is, 'What's driving the investor?'" he says. "Is the philanthropic part 95 percent of the investment decision, or is the return more important?"
Alumni-sourced loan providers continue to weigh other expansion options ahead of probable rate changes. CommonBond says it may soon roll out a consolidation product that targets undergrads of highly selective schools. Cagney says SoFi will introduce a floating-rate product in coming weeks and adds that the company may adjust rates on its in-school loans.
Longer term, Cagney says a federal switch to variable student loan rates means alumni-sourced products could be more competitive should rates rise. The company continues to expect it will lend $750 million for the remainder of the calendar year. CommonBond expects to lend up to $100 million over the 2013-14 school year.
Valentin, however, is skeptical that such lenders will make a significant long-term dent in the $1 trillion student loan market and draws comparisons between alumni-sourced lenders and peer-to-peer consumer lending firms such as Prosper Funding.
"On paper it sounds excellent, and they've grown, but overall they haven't had a huge impact," he says. "It's a drop in the bucket."
Join the discussion on the Bloomberg Businessweek Business School Forum, visit us on Facebook, and follow @BWbschools on Twitter.
Before it's here, it's on the Bloomberg Terminal.
LEARN MORE