pursuits
Office Bullies Pick on Their Unattractive Co-Workers
By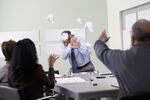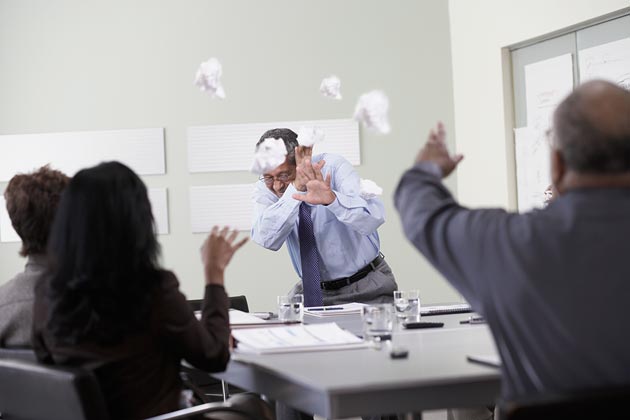 Whether or not your unfriendly workplace Johnny Lawrence or Regina George is aware of it, he or she is singling out at least one type of victim with his or her cruelty: less-attractive colleagues.
That's one of the unhappy conclusions in a study titled "Beauty, Personality, and Affect as Antecedents of Counterproductive Work Behavior Receipt," recently published in the journal Human Performance. Conducted by professors Brent A. Scott of Michigan State University and Timothy A. Judge of the University of Notre Dame, the experiment drew on a pool of more than 100 health-care professionals. The test subjects were photographed and "evaluated for physical attractiveness by those otherwise unfamiliar with the study," says Judge in an e-mail. Yes, this experiment began with the scientific equivalent of Hot or Not.
After being rated based on their looks, the subjects were then asked about "the degree to which their co-workers treated them in an uncivil manner at work." The results, as they say, weren't pretty.
The subjects who were considered unattractive reported incidents of being tormented. "It is not merely the characteristics of the [bully] that drive bullying behavior at work—as has mostly been the assumption in past research," says Judge. "The characteristics of the targets of bullying are important as well. We found that both the inner (personality) and outer (physical attractiveness) influence the degree to which others behave in a negative way toward us at work." In other words, if you're unattractive and lack self-confidence, you could be unwittingly "inviting" a bully to ruin your day.
While many people may believe that this type of behavior is confined to high school cafeterias, workplace bullying has come to light in recent years as a serious issue. "Counterproductive work behavior," as it's otherwise known, is characterized by abuse, aggression, antisocial behavior, incivility, social undermining, and workplace deviance, according to Scott and Judge. Or, as Joe Grimm, editor of the book The New Bullying: How Social Media, Social Exclusion, Laws and Suicide Have Changed Our Definition of Bullying, told Bloomberg Businessweek last year: "In a lot of workplaces, it's just considered part of workplace culture: browbeating, intimidation, cutting people off, and being the loudest in the room with an opinion." In a survey last year, CareerBuilder reported that 35 percent of employees said they had been bullied at work.
Bullying can be costly, as well. A Gallup poll in 2008 of more than a million workers revealed that an "overbearing boss" was the No. 1 reason employees quit their jobs. "If you quit because of bullying, it would take a company twice your annual salary to replace you: flying in job candidates, hiring, and training," said Grimm.
According to Judge, the point of their study was awareness. "We know from substantial research that physical attraction influences hiring decisions, earnings, career success, and now how our colleagues treat us at work," he says. "Very few of us would admit that we take attractiveness into consideration in how we treat our co-workers—yet our study suggests that we do."
But if you're the target of a bully at work, and confronting your tormentor or calling on a supervisor hasn't panned out, there's always another option before quitting: the crane.
Before it's here, it's on the Bloomberg Terminal.
LEARN MORE