Motorola's Moto X: First Impressions
by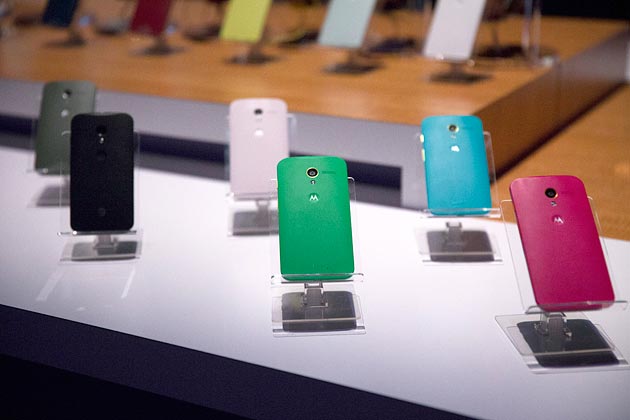 Since Google bought Motorola Mobility back in 2011, the latter has been making smartphones—but those phones didn't really matter (sorry, Droid Razr Maxx HD). Today, however, Motorola unveiled the Moto X. This one matters.
Why? Because it's the first phone built entirely on Google's watch. Google knows it has to move into making devices—its strategy of seeding Android into hardware for free has led to great mobile market share but not great mobile profits. Hardware equals hard currency, and no doubt Google is tired of seeing companies like Samsung make a killing off work done in Mountain View.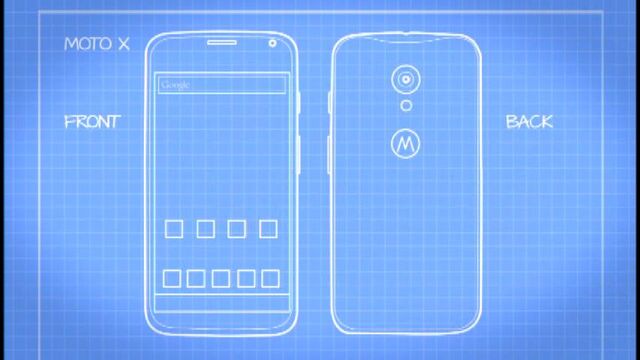 Motorola introduced the Moto X at an event in New York on Thursday morning. The presentation departed from the standard playbook right from the beginning, as Rick Osterloh, Google's senior vice president in charge of Moto X, jumped in by talking about Touchless Control, the phone's hands-free, voice-activated interface. You can say to the phone, "OK, Google Now. Call so-and-so," or "Find a sushi restaurant nearby," or "Did the Mets win last night?" Since Google structures more and more of its search data, questions like the last one can be processed and answered via a synthetic voice. ("No. They lost 3-2 to the Marlins," the phone replies.)
Unlike most new-product launches, the proceedings here did not start with the product, but with the services. There was no video showing off the beautiful curves or chamfered edges of the Moto X, which will come out at the end of August with a base price of $199 for the 16GB model ($249 for 32GB). We learned about the camera (it comes on when you twist the phone twice) and the Active Display (relevant info pops up on the lock screen when you move the phone), and then only at the end did we get into the hardware side of hardware.
Funny thing is, there's actually something interesting happening with the Moto X as a device, not just a collection of services. The phone's design is certainly attractive—its slim bezel and curved back fit right in with modern phone design—but it's what buyers can do with the design that may help distinguish it from the rest of the smartphone pack.
Motorola will launch Motomaker, an online service that allows users to custom-order their phone in a combination of colors and materials, alongside the Moto X. The presentation referred to Nike's (NKE) ID program, in which customers can personalize a pair of sneakers, and Mini's endless combinations of accessories and finishes that prospective owners can sort through before buying a car.
The Motomaker site lets you select the back color, the front color (so long as it's black or white), and the accent color on camera-lens surrounds and side-mounted buttons. Motorola also showed off prototypes of some woods it's using to make a wood-based back cover. That material won't be available on Day One but is expected soon after. There are also accessories like headsets from SOL Republic, which can be ordered in the same colors that are available for the phone.
Until now, phone customization was limited to cases and more-expensive refits. Motorola's effort brings more individualization to more people. During the presentation, the company was also keen on pointing out the delivery-date estimator, which updates in real time. Ordering a phone to your own specs takes four days in most cases, but that time frame can shift by a day or two if, say, everyone wants an olive-green phone with orange accents.
Making this type of customization a reality is a smartphone assembly plant in Fort Worth, the only one of its kind in the U.S. Motorola purchased the facility (it had once been a Nokia plant) and employs around 2,000 people there to put together phones based on specs coming out of Motomaker, as well as standard-issue devices in black or white. Motorola says it doesn't know how much of the production will be taken up by custom orders, but its not taking any chances in case the idea takes off. "We've optimized [the plant in] Texas to assume that everyone will want a custom phone," says Chief Executive Officer Dennis Woodside. "If we're wrong, it's a lot easier to go back to making black-and-white models than to go in the other direction."
All in all, it was an impressive showing. Of course, we've seen impressive showings before. The Palm Pre looked good when it first came out. Nokia's Lumia phones were well-received, too. The trick for Motorola is to convert "Hey, that's a pretty cool phone" to "Man, I gotta get one of those." Perhaps Motomaker will be the key to that.
Before it's here, it's on the Bloomberg Terminal.
LEARN MORE